Title IX
Pacific Union College is committed to maintaining a respectful learning, living, and working environment that is free of sexual or gender-based discrimination and harassment and sexual misconduct. The Title IX Office is tasked with upholding the federal Title IX statute and administering the college's sex nondiscrimination and sexual harassment policy in a fair and equitable manner. 
PUC expects all members of the campus community to share in the responsibility of upholding the College's policy prohibiting sexual or gender-based discrimination and sexual harassment. 
Title IX Statute
"No person in the United States shall, on the basis of sex, be excluded from participation in, be denied the benefits of, or be subjected to discrimination under any education program or activity receiving federal financial assistance."
Education Amendments of 1972
(20 U.S. C. § 1681)
Title IX Office
Tanya Healy
Title IX Coordinator
Stacy Nelson
Title IX Deputy Coordinator and
Associate Vice President for Human Resources
Trained Advisors
The following trained advisors of the Title IX Office are available to provide support, act as process advisors, and take intake reports on behalf of the Title IX Coordinator and Deputy Coordinator.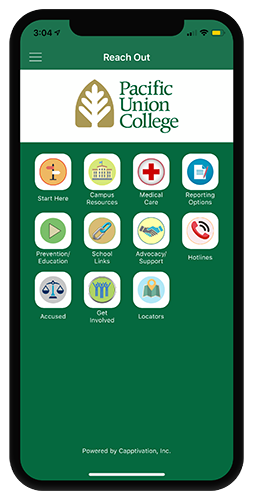 Download the Mobile App
Reach Out Editions by Capptivation, Inc.
Each resource includes a description, complete contact details, and hours.  Subcategories make it easy to find resources at the local, state, and national levels.  Simply tap on any of the categories to learn more about the reporting process and who you can contact to file a report. 
Options Organized Around Phases of Care
Reach out offers a step-by-step guide to helpful resources for various points on one's healing journey.
Entertaining Learning
Watch short videos about important topics such as how to help a friend, bystander intervention, consent, and more.