Out of PUC: Where (More) PUC Grads Are Now
By Lainey S. Cronk on July 29, 2009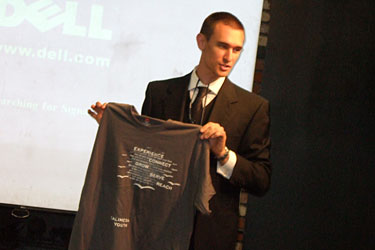 Pacific Union College's graduates from the last few years are making their place in communities around the world. Here's a sampling of destinations and niches. To read about others, go to our earlier Out of PUC feature.
Elisabeth Reeves, '08, is working on her master's in forensic science through the University of California, Davis extension program. She rides her bicycle to such classes as "Analysis of Toxicants" and "Scientific Evidence and Courtroom Testimony." She's also doing a research internship on Organic Gun Shot Residue for the Sacramento County District Attorney's Crime Lab. And in her spare time, she's breaking in her sewing machine.
Morgan (Vogel) Chinnock, '07,is a consultant in grant writing for Morrison & Company, where she works on grant proposals and has spent the last nine months building an online green grant subscription database and notification service. She also recently finished ghostwriting the autobiography of a gentleman who grew up in Germany during WWII, had his village invaded by the Russian army, and spent his life searching for fulfillment, only to find God's love in Adventism in the early '90s. Morgan also finds time for such adventures as a recent trip to Ethiopia with her husband to work with Tropical Health Alliance Foundation writing and raising awareness of health, women's development, and clean water programs. "I feel privileged by where following my passion has taken me the last couple years and am excited to see what's around the next bend in the road," she says.
Jordan Wareham, '04, is an instructor in the training department at Mesaba Airlines. "My airline ID badges are all hanging from a PUC lanyard," he says. "I guess it is not only my continuing pride for my school but my own personal beacon to Las Adventistas I may run into through my travels."
Christy (Haack) Mantz, '07, a social work grad, works as a Deputy Probation Officer for Napa County. She supervises a total of 45 juveniles, and works in the Juvenile Drug Court program as well. Her job includes a wide variety of tasks, from making sure kids are attending school to doing drug tests for female clients to making curfew calls and meeting with parents. She also participates in the county's Impact Program, which meets at 5:30 a.m. four days a week for 30-day periods!
Dustin Comm, '07, is in his third year at the Calimesa (California) Adventist Church as their Pastor of Youth and Media. Along with activities like preaching and youth trips, he's working on a new youth talk show for Loma Linda Broadcasting Network called "Higher Definition," tentatively set to air this fall. "Hopefully teens will check it out," Dustin says. "Right now there really aren't many (if any) consistent shows for teens on Adventist television." He's also coaching varsity boys basketball at Mesa Grande Academy and playing on his own team at the Drayson Center in Loma Linda when he has a chance. To top it all off, he says he's "discovered Twitter and learned the art of tweeting!"
Search
Keywords
Archive
PUC in Outside News
Campus Updates