Photographers Learn Technique at the coast
By Lainey S. Cronk on August 3, 2009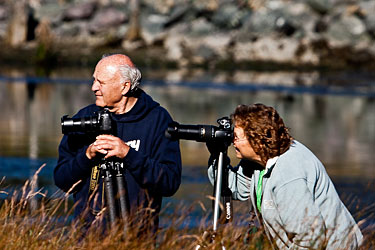 This year's Digital Art Photography course brought photographers of all levels to Pacific Union College's Albion Field Station on the Mendocino Coast, as it has for several years now. The one-week session was offered twice in July. The course, says Albion director and photography instructor Gibby Muth, "is for people who want to learn the techniques of good 
photography, how to properly manipulate their photos on the computer, how to 
display their work and how to better understand how to use their camera."
Photographers at any level can join the class - all they need is a digital camera and willingness to learn. "We
get individuals who are very knowledgeable in all these areas who come to be 
with others of like interests, as well as rank beginners," says Muth. "Our goal is to help 
them become more proficient."
This year, teachers Marlowe Burgess, Farrel Brizendine, and Muth each took a different branch of instruction. Burgess worked with photographers who wanted to become more proficient working with images in Photoshop; Farrel taught photographic techniques; and Muth taught beginners the basics of working with images.
The group would shoot early in the morning, have a lecture after breakfast, and then shoot again in the late afternoon. In the evening, they would gather for a critique of the day's work. When not out shooting, the students worked with their photos to edit, enhance, and create slideshows.
As Muth explains, Albion is the perfect place for students to explore art. "We want our students to be excited 
about painting and photography," he says. "Albion and the Mendocino Coast are ideal for this because there is so much natural beauty to capture."
Search
Keywords
Archive
PUC in Outside News
Campus Updates