Welcome Home! Alumni Return to Celebrate PUC's 140 Years
By Laura Gang on April 29, 2022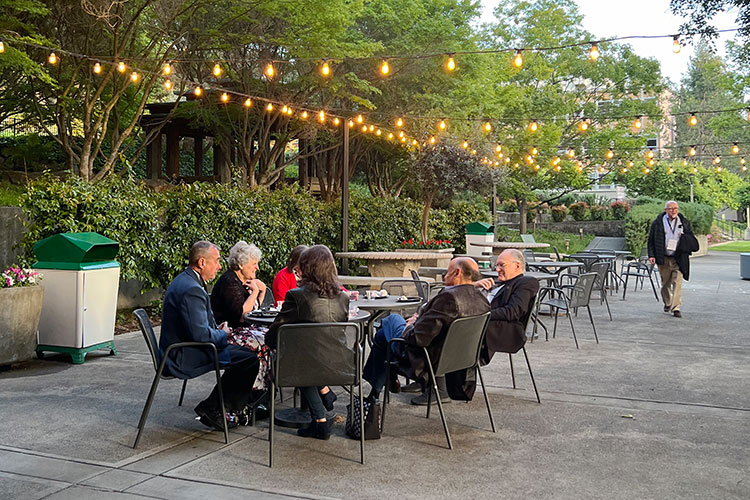 After years apart, alumni, friends and family gathered once again on the mountain.
Pacific Union College welcomed over 600 alumni to celebrate 140 years during its annual Homecoming on Sabbath, April 16, 2022. The day was filled with special programs, including the inauguration of PUC's new president and the opening of the Walter C. Utt Center. Social events reconnected classmates and friends at their beloved alma mater.
This was the first time since 2019 the college was able to hold an in-person Homecoming due to the COVID-19 pandemic.
"We will be eternally grateful for how the campus pulled together to help us create a meaningful homecoming weekend," said Kellie Lind, PUC's vice president for alumni and advancement. "Faculty, staff and community volunteers worked together to generate a really special weekend."
This year's honored classes were '60-'62, '70-'72, '80-'82, '90-'97, '00-'02 and '10-'12. These included classes that could not gather together in person over the past two years. Honoring three classes from each decade was a hit, Lind said, and something many people have requested for next year's reunion.
Homecoming celebrations began on Sabbath morning as alumni gathered in the PUC church sanctuary for a program centered on the college's 140-year history. David Trim, director of archives, statistics and research for the General Conference, linked together the "mission chain" of the college's prominent historical figures – those who answered the call "whom shall I send?" and took the good news of the gospel to other nations.
The Easter weekend church service featured a warm welcome from Lind and President Ralph Trecartin along with a message from Marlene Rodriguez ('05) and musical selections from PUC's Chorale and Orchestra.
The Honored Alumni Awards went to Ed and Barbara Holm (both '69) and Ray and Lynette Holm ('71, '69) for their combined 67 years in the mission field. "These two couples," Lind said, "have literally followed the command 'go ye unto all the world.'"
With PUC honoring its past as it looks forward, it was fitting that during Homecoming the college dedicated the Walter C. Utt Center with a ribbon cutting. The archival center, named after one of PUC's most distinguished professors and historians, is all about mission. It includes priceless historical materials not just about PUC but also St. Helena Hospital, local history and worldwide missions. At the opening ceremony, Dr. Trecartin said the Utt Center will be a new focal point of the campus where student achievement and opportunity are celebrated.
Trecartin's inauguration as PUC's 24th president also was a main highlight. He spoke of building on the college's mission of faith, love and service.
"God has called us to this place for this time," Trecartin said. "We have an exciting adventure before us. Join me in watching to see the amazing things that God will do and jump in with me to join Him in any way we can to help."
His afternoon inauguration included songs from three accomplished PUC alumni sopranos: Marnie Breckenridge ('93), Deborah Morel Tonella ('77) and Kathryn Hopgood Sculatti ('04).
"It's always so much fun to have the alumni come back and bless us with their talents, their stories and their families," Lind said.
Aside from formal programs, Homecoming featured multiple opportunities for alumni, friends, family and current students to gather together. Many shared meals together and reminisced during class parties. They told stories about campus life and their favorite professors. Most of all, many shared how PUC shaped their lives and how God has led them in the years since.
"My 50th PUC reunion was a vivid reminder of the magnitude of blessing the school is to me," said Pastor Les Jones, ('72) who traveled from Oregon to attend Homecoming. "Memories abounded and friendships renewed. Thank you, Lord."
Search
Keywords
Archive
PUC in Outside News
Campus Updates