Ralph Trecartin Inaugurated as 24th President of Pacific Union College
By Laura Gang on April 26, 2022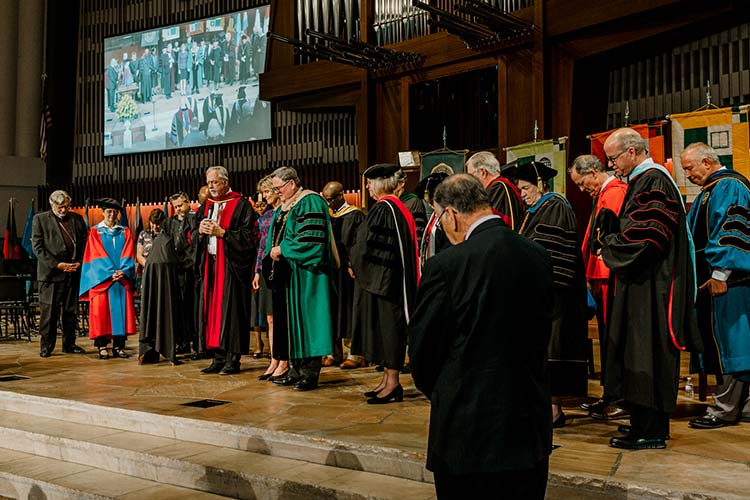 Dr. Ralph Trecartin was inaugurated as Pacific Union College's 24th president in April, taking over leadership of the institution in its celebratory 140th year and vowing to build on the college's mission of faith, love and service in writing the next chapter of its storied history.
"God has called us to this place for this time," Trecartin said in his inaugural response themed on how the college's past inspires its vision for the future. "We have an exciting adventure before us. Join me in watching to see the amazing things that God will do and jump in with me to join Him in any way we can to help."
Pacific Union College's Board of Trustees appointed Dr. Trecartin in July 2021 as the successor to Dr. Robert Cushman, citing his leadership, innovation and experience in academic, enrollment and financial administration and his devout commitment to the mission of Seventh-day Adventist higher education.
Trecartin's formal inauguration service coincided with the college's alumni Homecoming Sabbath on April 16, 2022.
The momentous occasion began with a special procession of board trustees, faculty, program participants, administration, and representatives from other Adventist institutions, many dressed in full academic regalia. Former and current students and faculty, as well as members of the community, family and friends filled the PUC Church sanctuary. PUC's Orchestra and Chorale performed several beautiful musical selections for the event. Marnie Breckenridge ('93), a renowned American soprano, blessed those in attendance with her soaring vocals on Ferdinand Hummel's "Alleluia."
The program included words of welcome, prayers, a responsive reading from distinguished members of the board and faculty as well as from a former student and colleague of Dr. Trecartin.
Presidents of Seventh-day Adventist colleges and universities from across the U.S. attended the ceremony, including La Sierra University's Joy Fehr, Walla Walla University's John McVay, Southern Adventist University's Ken Shaw and former Southwestern Adventist University and Pacific Union College president, Eric Anderson.
The current and the immediate-past president of Andrew University, Andrea Luxton and Niels-Erik Andreasen, respectively, took part in the inaugural program.
Luxton gave the inaugural address centered on three scenes from Jesus' final hours before his death. In the midst of difficulty, trial and betrayal, Jesus "served no matter what" and his example of humility calls us all to do the same.
She said "in Ralph Trecartin you have an individual that understands the power of service." He follows Christ's example by embracing reality with a "hope and faith that always speaks of possibility." Luxton said Trecartin "truly understands that the life, death and resurrection of Christ changes everything,"
Justin Oliver, who worked as a study abroad advisor at the State University of New York, spoke warmly of his former boss and mentor, whom he affectionately referred to as Dr. T. He said his "inclusive leadership style made us feel like we all belong and he empowered us to contribute our ideas."
"Dr. T makes things student centered," said Oliver, now the New Student and Pre-College Programs Administrator at UC Berkeley. "He impacted not only just his department, but all of SUNY and has "a knack for making the most of everything."
Dr. Trecartin came to PUC from Andrews, where he served as the associate provost and dean of the College of Professionals. He also worked for 18 years at State University of New York as Executive Director and then Assistant Provost of International Education at Brockport.
He holds a doctorate in finance from Michigan State University Eli Broad College of Business, a MBA from Andrews University and his bachelor's degree in theology from Atlantic Union College.
Dr. Trecartin and his wife, Virginia, a registered nurse, have four adult children. Andrew, Alexander and Ross are all physicians. Zachary is working on his MBA at Andrews University. The Trecartins are also proud grandparents.
Already Dr. Trecartin is making a difference through his example of humble and committed service on PUC's campus and the larger Angwin community.
"We are particularly thankful that providence has brought Dr. Ralph Trecartin to the leadership of the college," said Sandra Roberts, board chair and executive secretary of the Pacific Union Conference, "and for the commitment, the passion, the guidance and the heart that he has brought to this beloved institution."
Search
Keywords
Archive
PUC in Outside News
Campus Updates