18th Annual Diogenes Film Festival Honors Three Years of Achievement
By Laura Gang on June 8, 2022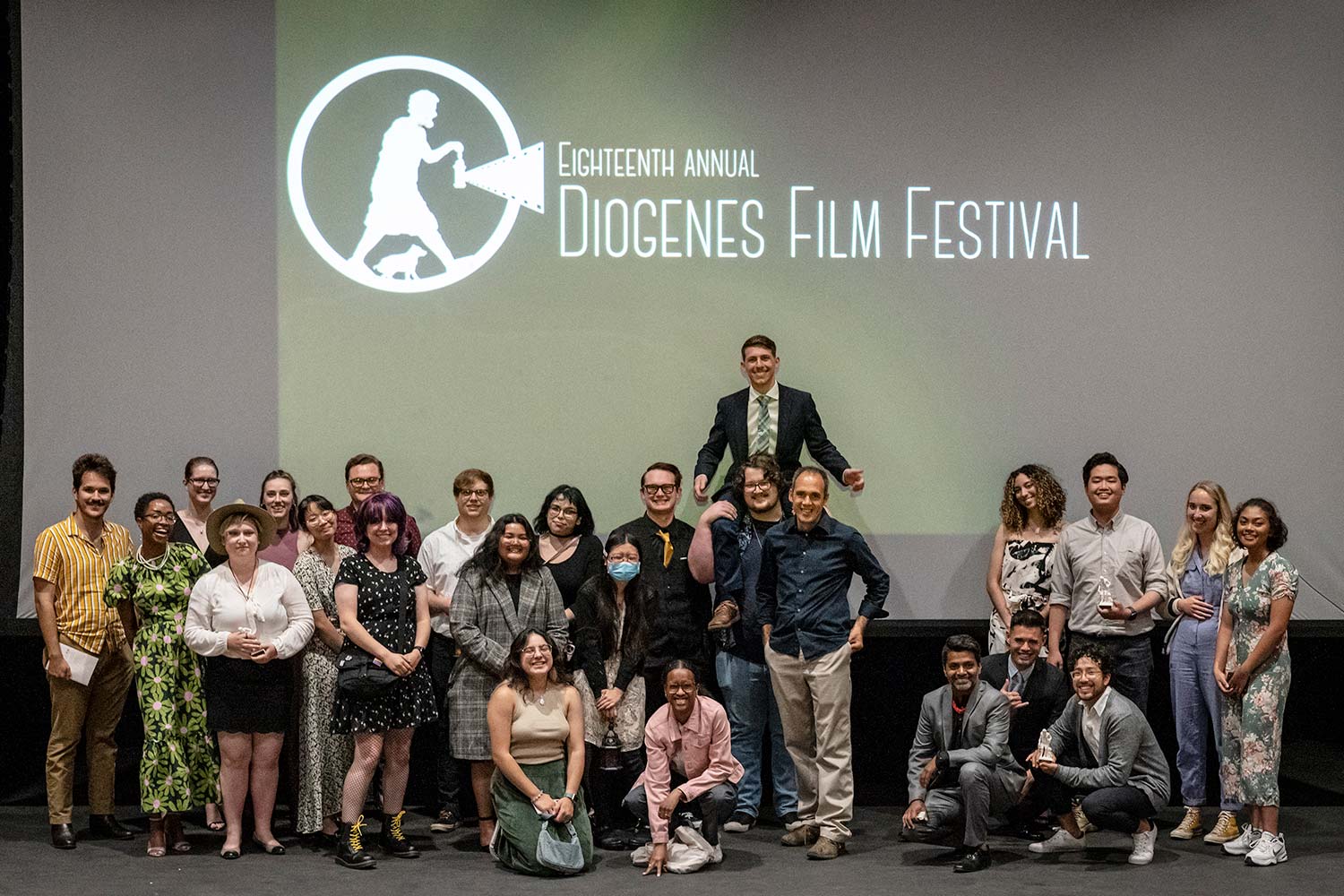 "This is our Christmas."
That's how Rajeev Sigamoney characterized this year's extraordinary 18th Diogenes Film Festival that brought Pacific Union College's visual art students, past and present, together to celebrate their achievements.
Due to the COVID-19, the annual festival was canceled in 2020 and 2021. Sigamoney, professor of film and chair of the Visual Arts department, said he and his colleagues felt it was important to include the students whose projects had been delayed by the pandemic. This year's festival featured films from three years -- more than 35 showcased over two days.
The Student Showcase took place on Sunday evening, May 22, in PUC's Dauphinee Chapel. Underclassmen projects were viewed by an audience of nearly 120 in two 90-minute blocks followed by an awards ceremony.
A panel of judges made up of PUC alumni named Fabiola Ixcot the Filmmaker of the Future for her exceptional work in "Fading." Filmgoers voted via text message during the event to pick the Audience Choice Award. Josue Hilario and his film "Sanity" won as well as Ysabelle Labaco and Atlas Snarr for "Unconditional."
Part two of this year's film festival, Senior Showcase, was celebrated Sunday, May 29, and featured eight senior thesis films. "St. Helena High School," Visual Arts instructor Tim De La Torre said, "was the perfect venue." In addition to its quality sound and projection, the seating arrangement of the room provided a theater-like atmosphere. De La Torre said it allowed the audience to laugh and cheer together in a shared emotional experience.
Judges awarded three students for Best Thesis Film: 2020's "The Next Day" by Josette Detour, 2021's "Minuteman" by Nephtali Marin and Jonathan Salvador, and this year's "How About Lunch" by Kevin Lembano.
Sigamoney said it was "risky" to have an event over Memorial Day weekend, but it gave student filmmakers from previous years the opportunity to attend. In fact, some students fundraised to help buy tickets for a former student now living in Hawaii. Others made the journey from as far away as San Diego and Los Angeles.
It was wonderful to celebrate the achievements of former students with them in person after two years. It was also fun to see current students "inspired and motivated by alumni and for them to create connections this weekend," Sigamoney said.
"Our students showed incredible resilience," De La Torre said. "Each one encountered challenges and problems, but some were completely derailed by COVID. It took incredible effort to complete their projects. I'm proud to see them cross the finish line."
The event was the culmination of three years of hard work for students. What made this year's film festival especially memorable, Sigamoney observes, was the vast array of genres and topics that reflect the diverse and interesting nature of the students themselves. "Sitting in a room with a bunch of people who all look different and have different voices to celebrate individual stories together is special," he said. "It's my favorite part of the year."
Search
Keywords
Archive
PUC in Outside News
Campus Updates