Professional Opportunities for Student to Thrive at the 2020 Career Day Fair
By Sarah Tanner on March 11, 2020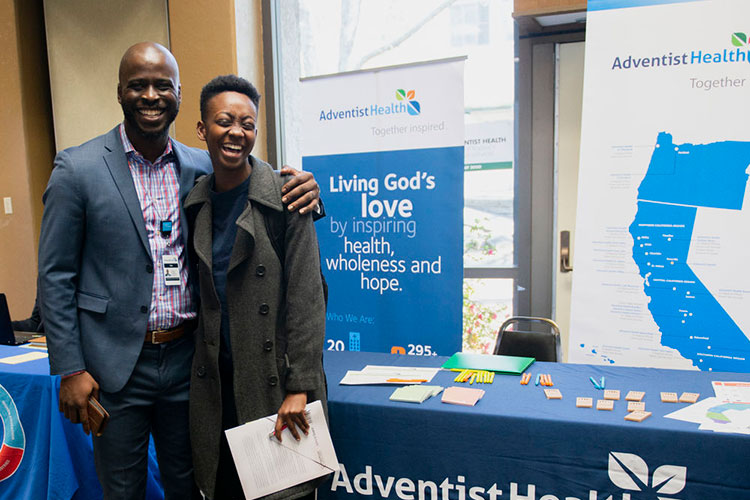 Thursday, March 5, PUC's dining commons side room filled with representatives from a variety of local and statewide businesses. The annual career day fair draws a number of interested companies and post-graduate institutions interested in our graduates. Individuals from a wide array of backgrounds offered networking tips and career-oriented conversation, including the Adventist Health network, Discoveryland Preschool, St. Josephs, and the United States Army, Navy, and Marshall offices.
In addition to the general post-graduate career opportunities presented during the fair, a number groups came to inform students of summer internships programs. Many of these programs are located near the PUC campus, and are especially convenient for students planning to stay in the Napa Valley area over the summer.
Nearby recreation areas such as Lake Berryessa often require more willing bodies during the busy summer season. Margaret Bailey, Berryessa's park manager, came to the career day fair to scout students interested in park ranger positions.
"Our mission is to provide a quality recreation experience for visitors and part of that is having good rangers," she explained. "During the summer we hire temporary rangers, and many of the students here qualify to work seasonally."
In addition to offering a steady hourly wage, this position also opens doors to further work with the Bureau of Reclamation, which is currently hiring in 17 western states. Positions available span a number of fields including engineering, human resources, budget analysis, contracting, dam operating, and biology.
Opportunities for internships in fine arts were also present at the career day fair. William Callnan from NBC Pottery here in Angwin came to the career day fair looking to foster local talent for ceramics. Recently featured in the SanFrancisco Chronicle, Callnan's work has become increasingly popular in fine dining settings in the Napa Valley.
"We're looking for interns with a willingness to learn. We have over 20 years of experience and want to share our love for the arts. It's a creative, dynamic lifestyle, and so fun to collaborate with renowned chefs and high profile clients. One of the best parts is seeing your work on the table in a beautiful restaurant."
To complement the outdoor opportunities and fine arts positions, PUC's career day fair also included a visit from the Adventist Health system. Biology and pre-medical students, such as Shekinah Francis were able to speak to the representatives from the various institutions present to gain a better sense of their post-graduate options in the medical field.
Francis explained why her interest extends to all of the medical groups at the fair: "Even though I am focused on my bio and pre-med track, I want to see all of the career options. Discovering what else is out there reminds me that there's not just one option for my job. I even looked at forensics to become a little more educated about my options."
As students milled around the tables, they were able to exchange information with professionals in their fields and gain a better sense of where they could be in the next few years. Part of the larger career preparation goals of the Career and Counseling Center, this fair encourages freshmen and seniors alike to take advantage of networking opportunities, and to pursue those fields that line up with their passions.
Before running to her next class, junior biology major Victoria Gabardi made sure to stop by the booths. "There are so many options for us here," she smiled. "The opportunities are almost endless."
Search
Keywords
Archive
PUC in Outside News
Campus Updates