U.S. News & World Report Ranks PUC in Top Ten Colleges
By Staff Writer on March 18, 2020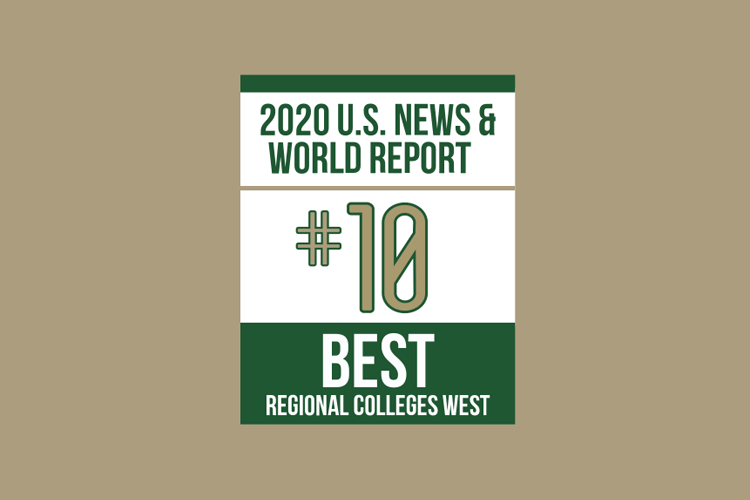 The U.S. News & World Report has released its annual Best Colleges list, and Pacific Union College has again been ranked in the top ten colleges. PUC was placed in the top 15 in the following categories:
#10 in Regional Colleges West
#7 in Best Colleges for Veterans
#4 in Best Value Schools
#14 in Top Performers on Social Mobility
#1 in Campus Ethnic Diversity (West)
"We are incredibly proud of our rankings in U.S. News & World Report," says Milbert Mariano, academic dean at PUC. "These results speak to the quality of a PUC education, as well as an overall PUC experience that puts students at the heart."
Regional Colleges are split into four regions and are placed in this category based on the Carnegie Classification of Institutions of Higher Education's Basic Classification system, the accepted standard in U.S. education. A few of the factors and weights included in the methodology are graduation and retention rates, graduation rate performance, social mobility, faculty and financial resources, student excellence, and alumni giving. PUC is the only Adventist school in the top ten.
Best Colleges for Veterans are selected based on meeting the following criteria: certified for the GI Bill, participates in the Yellow Ribbon Program, for the third consecutive year enrolled a minimum of 20 veterans and active service members, and be ranked in the top half of its 2020 edition Best Colleges ranking category. PUC is the only Adventist college ranked on this list.
Best Value Schools are ranked based on giving students the best value for their money. The school's academic quality is considered, along with its net cost of attendance for students receiving the average level of need-based financial aid in 2018-2019. PUC ranked #4 among Regional Colleges West for having a high-quality program and a comparatively lower cost. Only schools ranked among the top half of their categories are included in this ranking.
Top Performers on Social Mobility are selected based on how successful they are at graduating large proportions of disadvantaged students awarded Pell Grants. (The vast majority of these federal grants are awarded to students whose adjusted gross family incomes are under $50,000.)
Campus Ethnic Diversity is drawn from each institution's fall 2018 total undergraduate student body. The ethnic categories used in the calculations are non-Hispanic African-American, Hispanic, American Indian, Pacific Islander/Native Hawaiian, Asian, non-Hispanic white and multiracial (two or more races). Students who did not identify themselves as members of any of those demographic groups were classified as non-Hispanic whites for the purpose of these calculations. The formula produces a diversity index that ranges from 0 to 1. The closer a school's number is to 1, the more diverse the student population.
Search
Keywords
Archive
PUC in Outside News
Campus Updates