Summer Service: Health Education at the Farmer's Market
By Lauren VandenHoven on August 28, 2019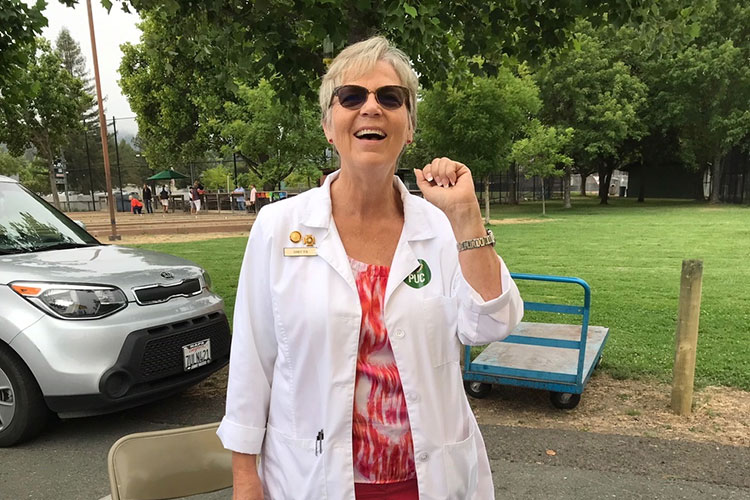 Sandy Sargent, PUC's director of Health Services, has spent her summer engaging with community members by starting conversations about health at farmer's markets in Napa and St. Helena. Twice each week, she and her team tackle different seasonal concerns, some of which include stress, sun protection and water safety, allergic reactions, hydration, and diabetes awareness. They presented the issues through evidence-based visual aids from well-known sources like the Center for Disease Control (CDC), along with hands-on teaching tools: a pool with rubber ducks for the kids and using a mannequin to teach learners of all ages how to practice CPR.
"The most important thing for me is to dialogue with people and educate them about basic health concerns that are surprisingly overlooked," Sargent says. "We have something to offer—a way to be a part of the community, an opportunity that would not only bring exposure to PUC, but also give something back."
The work isn't just about raising awareness on a variety of health issues; it's about connecting with a wide array of people and ages.
"It's a chance to be visible," says Sargent. "It's rewarding, and it creates relationships at a community level."
She shares stories about teaching a little boy how to do CPR and his excitement at knowing exactly how he could save somebody's life, or talking with a mother about her daughter's allergic reaction while her daughter played with the rubber ducks in the kiddie pool.
"You have to ask the relevant questions," she says. "You're trying to take medical info and put it at an understandable, teachable level."
Sargent is passionate about continuing her outreach at markets next summer and every one after that, but in the meantime, she'll have her hands full working with health programs all over the valley. Her farmer's market connections have led her to networking opportunities like an offer from the mayor of St. Helena to work on the Blue Zone Coalition, where she will be helping with research on places with high longevity to see how St. Helena can implement similar health choices to increase length and quality of life. Other groups she is working with include KVON radio and Napa County's task force for opioids and narcotics prevention. She also plans to give several presentations to area schools and clubs, taking her community-level conversations to a wider audience.
These conversations and possibilities for reaching out to the community have been created by simply creating a dialogue and forming relationships with local, everyday people.
"It means time, and it means being creative," says Sargent. "It's about asking, 'What can I offer?' You have to start there."
To learn more about how you can support Sargent's community outreach this summer and in the future, contact her at ssargent@puc.edu or visit Health Services.
Search
Keywords
Archive
PUC in Outside News
Campus Updates