Pacific Union College Ranks #2 on PayScale's 2019-20 College Salary Report
By Staff Writer on August 26, 2019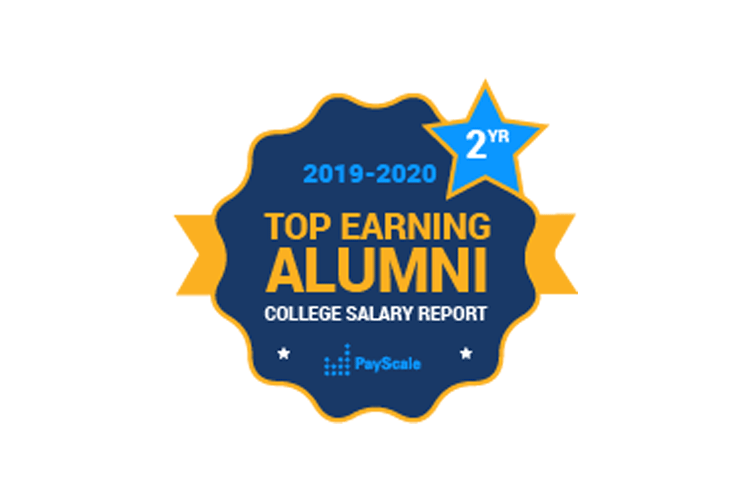 Pacific Union College announced today that they rank second on PayScale's 2019-20 ranking of associate degree schools which provide the best return on investment after graduation.
"The majority of the highest earning two-year programs are schools with strong reputations and a specific focus in nursing and healthcare professions," PayScale stated in its release of this year's rankings. This includes PUC, which trails the #1 school by a mere $200 in average mid-career annual pay.
"Our A.S. graduates are receiving a well-deserved return on their investment with an excellent Adventist education at Pacific Union College," says Milbert Mariano, academic dean at PUC. "We are proud of our them as well as our professors who are clearly preparing them for meaningful and rewarding service."
PayScale, Inc., is the world's leading provider of on-demand compensation data and software. Their 2019 annual College Salary Report included alumni salary data of 3.5 million respondents, representing more than 4,000 colleges and universities across the U.S.
"Higher education is a major financial decision, both in terms of the cost of attending the institution as well as the potential for future earnings," notes Sudarshan Sampath, PayScale's director of research, in the company's release of the rankings. "Our College Salary Report can be an important resource for students and their families when making decisions about which school to attend and which major to study."
Interesting and significant to note is that 20 out of the top 25 highest-ranked colleges for salary potential are private, not-for-profit schools, demonstrating that attending private schools like PUC offers a greater potential for higher early- and mid-career salaries.
About PUC:
Founded in 1882, Pacific Union College is an accredited liberal arts college serving more than 1,100 students. The college's overall program offers a full lineup of bachelor's degrees as well as several associate degrees, three master's degrees, and pre-professional and degree completion programs. A destination campus in California, PUC is Napa Valley's only four-year college and is affiliated with the Adventist Church.
About PayScale:
PayScale offers modern compensation software and the most precise, real-time, data-driven insights for employees and employers alike. More than 8,000 customers, from small businesses to Fortune 500 companies, use PayScale to power pay decisions for more than 23 million employees. These companies include Encana, Patagonia, The New York Times, Sunsweet, T-Mobile, UnitedHealth Group, Wendy's and Perry Ellis.
Search
Keywords
Archive
PUC in Outside News
Campus Updates