From Pioneer to River Cat: PUC alum announces for Sacramento's MiLB team
By Sarah Tanner on August 13, 2019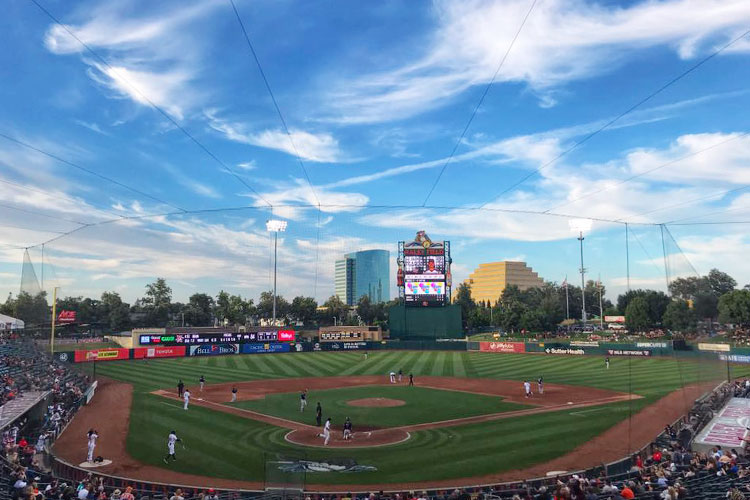 PUC alum Justin Smith graduated in 2006 with a degree in business and a passion for sportscasting. The voice of the Pioneers during his college years, Smith developed a love of announcing that recently helped land him a position with the Sacramento River Cats as a regular announcer for their minor league baseball games.
"I've been interested in announcing since my senior year of high school," Smith explains. "My experiences at PUC taught me the basics of speaking loud and clear to a large crowd, and having an Adventist education is something that helps you wherever you go."
Each River Cats game requires five or six hours of intense focus, including time before and after the game to run through scripts, become familiar with the batting line-ups, and prepare for the first pitches, national anthem, and interactions with other announcers.
When asked what his favorite aspect of announcing is, Smith said it was the fact that he could share his skills with his local high school, and contribute to their basketball and volleyball games.
"I get the most joy from announcing at Sacramento Adventist Academy's games. My primary focus is on that school. The River Cats position is a great opportunity, but I find working with the high school is most rewarding."
Smith also relayed some wisdom for any student looking to pursue their passion.
"Let God lead, and don't be discouraged when you fail. If you put yourself out there and continue to pray about your decisions, God will do the rest."
For more information about the Sacramento River Cats, visit their website.
Search
Keywords
Archive
PUC in Outside News
Campus Updates