Inspired Success: PUC grad sets academic record at LLU
By Becky St. Clair on August 6, 2019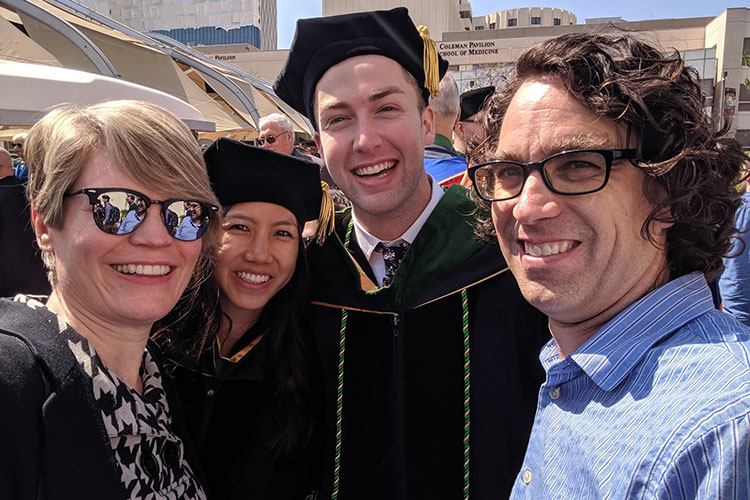 David Ruckle was born into a family of physicians: his dad, his mom, five uncles, and three aunts are all medical professionals. Needless to say, it was a path he found to be a natural one when he enrolled at PUC as a pre-med student. He chose business as his major.
"Business taught me how to manage a team and my time, helped me improve my collaboration skills, and gave me the tools to successfully handle my personal and business finances," he says.
Ruckle recalls one experience stemming from a group project in a class taught by former business professor John Nunes. When Ruckle approached Nunes with frustrations about the project, Nunes talked him through the situation.
"He coached me through how to work better with other people, and how to motivate a group," says Ruckle. "He helped me find ways to inspire success and to encourage others to be contributing members of a team. This was helpful because medicine is a very team-based career, with several people all working from their specific areas to achieve the best patient care you can get. I won't forget the lessons Nunes taught me."
After graduating from PUC in 2015, Ruckle went on to Loma Linda University. While there, he served as co-director of LLU's Special Ops Program, an outreach to a local elementary school. Together with the other Special Ops team members, Ruckle coordinated weekly presentations and lessons for the students, including crafts, career opportunities, engineering, sports, and more.
"It was a super special time for all of us," he recalls. "It got us away from our everyday routines and the studying, and got us out seeing and connecting with our community."
Ruckle also made it a point to connect with people inside the hospital. During his third year on medicine rotation, he was sent to the emergency department to see a man experiencing shortness of breath. The man came out of the experience diagnosed with two very rare cancers, both advanced to stage 4.
"His life was turned upside-down in one unexpected day," Ruckle says sadly.
The day before the man left to go to an extended care facility, Ruckle found himself with some extra time after rounds, so he went to the patient's room and sat with him. They watched football and the man shared favorite memories from his younger years.
"I'm so glad I made extra time for that man," Ruckle says. "He helped me realize it is so important to not only treat the patients I see, but to know them and really understand that they're people just like me. It seems straight-forward, but it can be easy to forget that truth in my line of work. Medical providers tend to distance themselves, as they engage with pain and suffering day in and day out. This man taught me to remain empathetic and always get to know the patient. Everyone has a story."
While at LLU, Ruckle set an academic record for achieving honors in every course and clerkship, and being inducted into the Alpha Omega Alpha honor society his junior year—something typically granted to students in their senior year. During his senior year he served as president of the society.
Additionally, Ruckle's scores on both the United States Medical Licensing (USMLE) Step 1 and Step 2 exams placed him at the top of his class and in the 99th percentile nationally. Actively engaged in research at LLU, Ruckle co-authored eight manuscripts, all of which have been published in peer-reviewed journals. His academic success earned him the 2019 President's Award from the School of Medicine.
"At PUC I definitely grew to become someone who could see things from different angles than I did before," Ruckle says. "PUC opened my eyes to not being as set in my ways and stuck in one type of thinking, and being open to new ideas. That experience will continue to serve me well in my career."
Search
Keywords
Archive
PUC in Outside News
Campus Updates