A Wild(life) Ride: Bio Grad Nails Vet Rotations at San Diego, Phoenix Zoos
By Becky St. Clair on October 2, 2019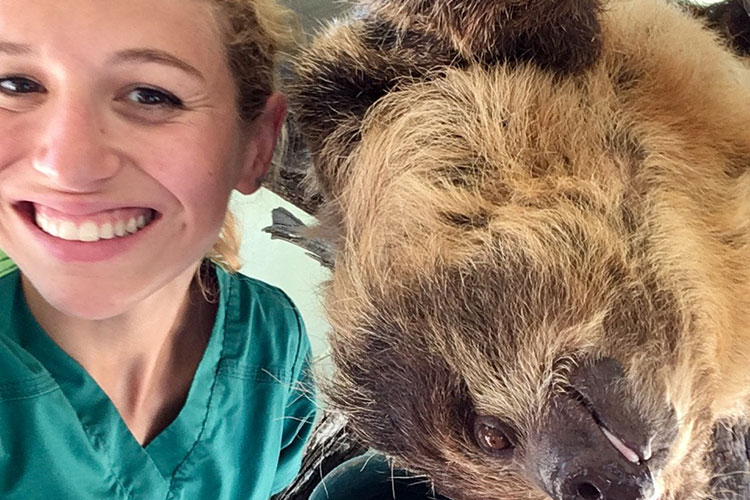 Amanda Schaff, 2014 biology graduate, has been fascinated by science for as long as she can remember. She has also always known she wanted to be a veterinarian. So, when the time came to head to college, she chose PUC, and enrolled as a biology major.
"I love cats and dogs, but I've always wanted something a little different than regular veterinary medicine," she says. While a student at PUC, Schaff took a trip to South Africa, working with wildlife veterinarians treating African wildlife.
"That was one of the coolest experiences of my life," she says. "That trip was what cemented my future as a wildlife or zoo veterinarian."
Following graduation, Schaff was accepted into a fellowship at the Clinic for the Rehabilitation of Wildlife (CROW) on Sanibel Island off the southwestern coast of Florida. It was a rare paid fellowship at one of the few wildlife hospitals in the U.S.
"There are many wildlife rehabilitation clinics, but they don't always have vets; usually they operate with certified wildlife rehab specialists," Schaff explains. "At CROW, they have several veterinarians on staff."
During her six-month fellowship, Schaff assisted with surgeries, treatment of rehabilitating animals, neonatal care, feeding, medicating, and exams. It wasn't as glamorous as it sounds, Schaff assures.
"There were a lot of babies that needed constant feedings," she says. "Because we rotated through the various departments, a couple of times a week I'd find myself stuck in a room with a dozen baby raccoons who behaved like hungry, tired human children, screaming and throwing things."
This year, Schaff completed a veterinary rotation at the Phoenix Zoo, where she worked with three main veterinarians and an intern. She completed many wellness exams, mostly on birds and reptiles, and assisted with any necessary procedures.
"A lot of zoo work is just doing visual exams," Schaff explains. "If you need to physically handle these animals, you have to sedate or anesthetize them, and it's a big deal. So if the keepers notice something abnormal, we basically sit and watch the animals for an extended period of time to try and figure out the cause of what the keeper is seeing."
Because the Phoenix Zoo has a breeding center for the endangered black-footed ferret, Schaff did a lot of exams on the animals in the center, making sure they were healthy and ready to be released into the wild.
Currently, Schaff is completing a rotation at a speciality hospital in Phoenix, specializing in oncology. Her day begins at 7:30 with rounds and reviewing patients. Then she spends her day shadowing an oncologist, assisting with consults, chemotherapy treatments, exams, and evaluating specimens to determine if a mass is benign or cancerous.
In December, Schaff begins a rotation at the San Diego Zoo.
"Honestly, my biology studies at PUC gave me a huge leap forward into the work I do now," Scaff says. "It's a really intensive program, and the professors expect a lot. It was hard, but my first year of grad school was so much easier than it was for my peers, because my PUC professors fought through my classes with me and taught me what I needed to be prepared for my future."
Though finding residencies in zoology or wildlife medicine in the U.S. can be challenging, Schaff maintains her goal of making this work her lifelong career. Part of the requirements for becoming a zoologist are a one-year small animal rotating internship, a three-year zoo residency, and being the first author on research papers. Having recently begun a research project with the Phoenix Zoo on which she will be first author, Schaff is well on her way to reaching her goal.
"It's a lot of work, but I'm certain it's what I want," she says. "Hard work has gotten me this far, and I'll see where it takes me from here."
For information about the biology program at PUC, visit puc.edu/biology. For information on pre-professional programs at PUC, visit puc.edu/pre-professional.
Search
Keywords
Archive
PUC in Outside News
Campus Updates