Encuentro: Student Helps Establish National Association
By Becky St. Clair on September 30, 2019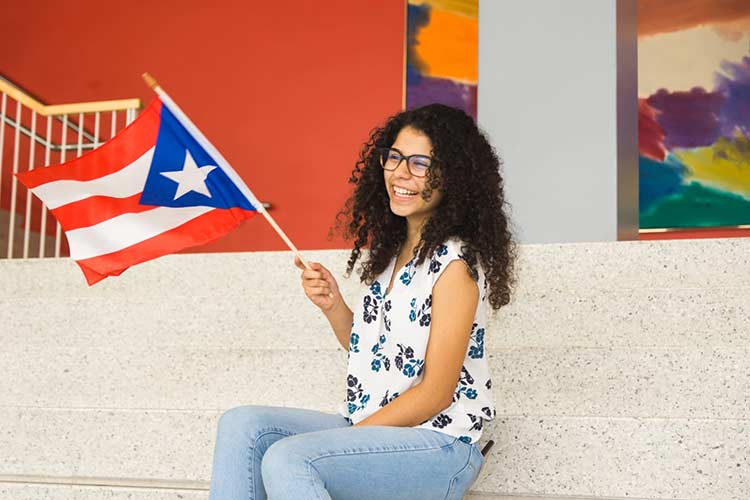 "Right after high school graduation, I was accepted into a young ambassador program with the Smithsonian museums. This opened the door for me to later attend a leadership event for young Puerto Ricans in New York City."
Samantha Rodriguez, sophomore engineering and math major, spent several days this summer at National Youth Leadership Encuentro, a student-driven leadership experience which offered young Puerto Ricans the opportunity to "explore the socioeconomic crises Puerto Ricans in the United States and Puerto Rico face, and gain the skills necessary to analyze, frame, and develop solutions that would impact Puerto Ricans throughout the nation."
Through discussions, activities, presentations of research, and meals together, the two dozen attendees got to know each other and dove more deeply into their shared heritage.
Rodriguez was the only participant from the west coast.
"There are so few Puerto Ricans and Dominicans on this side of the country that it wasn't until my college years I saw a Dominican man outside of my family," she explains. "This event was an opportunity to get a better idea of what my Puerto Rican self is like."
Going in, Rodriguez expected lectures and lots of sitting and listening. While the conference did involve presentations, she was happily surprised to find it was much more interactive than she was expecting.
"It was incredible to talk with people who are in the same boat I am, and who understand me and my experiences," she says.
Over the course of the conference, the young leaders began talking about creating a national Puerto Rican student association (PRSA). Though it wasn't one of the purposes of the conference, it wasn't a surprising outcome, either.
"One of my favorite aspects of the Encuentro was the entire event was focused on sharing information and asking the students what we wanted to do, and what we think we can do, to help Puerto Rico," says Rodriguez. "When I said I thought it would be cool if we could stay connected through an alumni network, the idea just took off."
Rodriguez is now the west coast liaison for the new PRSA. Her goal is to get PRSA chapters established at colleges and universities on the west coast, and to get schools talking about Puerto Rico. She hopes to use her role in PUC's SOL (Society of Latinos) club as a launchpoint.
"My first goal is to get my own college to acknowledge and talk about Puerto Rican history, culture, and people," she says. "SOL can be so much more than fun and games; we can educate and illuminate, using our events as platforms to encourage greater interest in larger issues that affect Latinxes everywhere, but especially on our campus and in our community."
For information about joining SOL, contact student life. To connect with Rodriguez, email strodriguez@puc.edu.
Search
Keywords
Archive
PUC in Outside News
Campus Updates