Athlete Scholar Award Given to Cross Country Team Member
By Becky St. Clair on December 14, 2018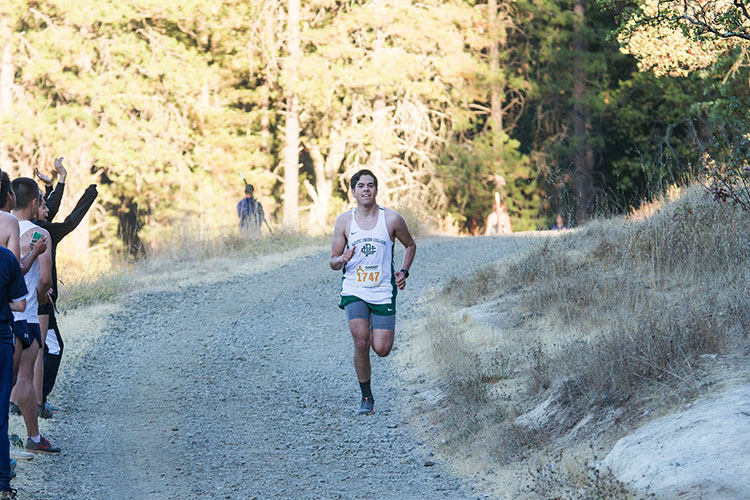 Antonio Robles, member of the Men's Cross Country team at Pacific Union College, has been selected for the Athlete Scholar Award by the National Association of Intercollegiate Athletics (NAIA). Only around 50 student athletes across the U.S. were selected to receive this award, which recognizes students involved in an athletics program that participates in the NAIA, and who has a GPA over 3.5.
"There are a lot of athletes doing great in school," Robles says. "I am happy I was considered to be recognized with this award."
The junior biology major wasn't expecting to hear anything from the NAIA once the season had ended, so receiving congratulations for an award just before he headed home for Thanksgiving was a nice surprise.
"This award has given me motivation to keep going and excel academically," he says.
It isn't easy being a student athlete; being part of the cross country team requires dedication even before the school year starts, and involves waking up at 6 a.m. for practice, then on race day driving over eight hours to run for a little over half an hour.
"With this award, I feel like everything has been worth it," Robles says. "Of course, my parents were happy and proud to hear about it, and I was pleased to be able to give back to them for their hard work raising me."
The 2018 season was Robles' first on the team. During his freshman year he was part of the college soccer team and had decided not to do sports this year. When he found he missed the competitive aspect of sports, and craved the exercise part, he opted to try cross country.
Robles is the first in his family to attend college in the U.S., so choosing the right school for him was a new experience for all of them. Though he first decided to visit PUC because it was close to home, he soon realized it was a perfect fit in more than just proximity to family.
"Coming here felt like I never left home, and that made choosing PUC so easy" he says. "I really appreciate the environment here, the professors, and the diversity of campus. I've learned to be open to different ideas and have met wonderful friends. Learning here at PUC has been an all-around blessing and the opportunities we have here for ministry and personal growth are countless. This award is truly just one of many things that have made me love my PUC experience."
For information about PUC's athletics program, visit pioneersathletics.com.
Search
Keywords
Archive
PUC in Outside News
Campus Updates