Collaborative Conversation: Senator Bill Dodd Visits PUC Campus
By Becky St. Clair on December 11, 2018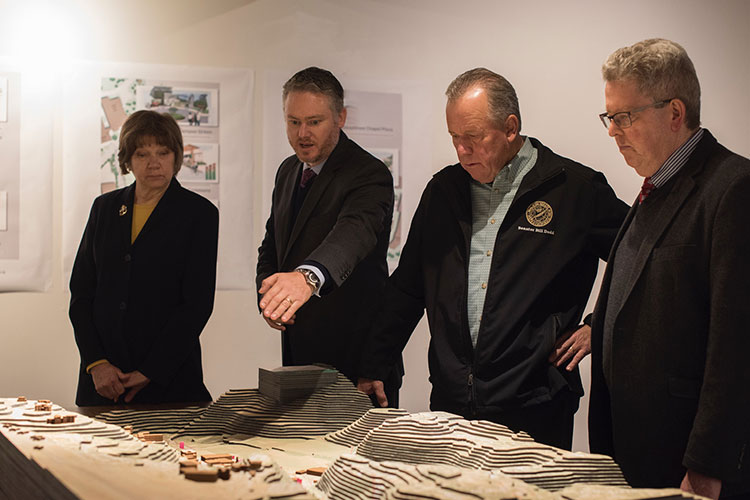 When the Wildlife Conservation Board announced their approval of PUC's conservation easement proposal, a story ran in the Napa Register. This story prompted a call from Senator Bill Dodd to the office of PUC's president, Bob Cushman, requesting a campus visit. That visit took place on Friday, Nov. 30.
"The itinerary was a collaborative conversation about how best to accommodate PUC's interest in sharing our story with our Napa Valley community, and his interests in a better understanding of who and what we do here at PUC," Cushman explains. "It was an opportunity for him to interact with our students, as well, which we did our best to provide."
Dodd spent about three hours on the PUC campus with his field representative, Alex Pader. During this time, he visited with not only Cushman, but also Nancy Lecourt, academic dean, Brandon Parker, VP for financial administration, and Peter Lecourt, forest manager. Together they reviewed the college's strategic plan framework, the campus physical master plan, the forest conservation easement, and the campus' wildfire mitigation plan. Additionally, Dodd was able to speak to and have lunch with PUC Honors students.
"Senator Dodd combined a bit of personal background with his talk, and focused on some of the California-specific issues he's currently tackling," says Sarah Tanner, sophomore English major Honors student. "I really appreciated his commitment to remaining bipartisan during the lunch, as his focus was clearly on taking the best actions for the state, rather than catering to political parties."
During his lunch presentation to the Honors students, Dodd shared how the issue of water usage in Napa was the initial problem that motivated him into politics. He also spoke about being in the thick of conversations addressing the complex problems caused by the ravaging California wildfires.
"He also spoke to the importance of diverse expertise on those conversations—health, education, engineering, land use, business, environment protection," says Georgina Hill, director of the Honors program, who also attended the lunch. "He encouraged the students to finish their degrees, to develop the expertise in their chosen areas, and then bring that expertise to conversations such as these."
Georgina Hill, Honors program director, who also attended the lunch, says that Dodd's focus on varied fields benefiting the community and the world was a positive, helpful one for the students.
"One common value amongst Honors students is the desire to be of service in their communities," she says. "As the end of the term with the ensuing projects and papers and exams looms, it can be motivating to be reminded of how this term, this degree, fits into the long game."
Cushman says the visit was a positive one, stating both the senator and Pader were very impressed by PUC, expressing particular interest in the college's active forest management plan, the conservation easement, and the wildfire mitigation plan for the PUC demonstration and experimental forest.
"Dodd and Pader suggested our partnership with the Land Trust of Napa County, CalFire, and the active forest management plan is a model that could be used for other conservation easements in California," says Cushman. "Wildfire mitigation is currently a major topic for lawmakers and local planners at the state and county levels."
The senator was grateful for PUC's aggressive approach to addressing wildfire mitigation concerns on Howell Mountain and for the Angwin community, and for the quality of the work being done. He was surprised to learn how diverse PUC's student population is, and the college is a Hispanic-serving institution.
"He was pleased we are using our diversity to engage in building community while celebrating our differences," Cushman comments.
Building community was a major part of what the senator's visit meant to PUC. It was an opportunity for the college to grow its visibility and positive reputation in the region and within the Napa Valley.
"It is important for us to engage with our local communities, as well as our local government representatives," Cushman says. "We had an opportunity to share who we are and why we exist with people who represent our interests in the halls of government. They now have faces to put with issues when conversations or bills come up that could impact what we do here for our students at PUC. We now have a friend in the Senate, and he knows who we are. We're not just another place on the map."
For information about PUC's conservation easement, the PUC forest, and the campus wildfire mitigation plan, stay tuned to puc.edu and follow us on Facebook. For information about PUC's Honors program, visit puc.edu/honors or email honors@puc.edu.
Search
Keywords
Archive
PUC in Outside News
Campus Updates