PUC Students Help Lake County with Point-In-Time Homeless Count
By Larissa Church on February 13, 2017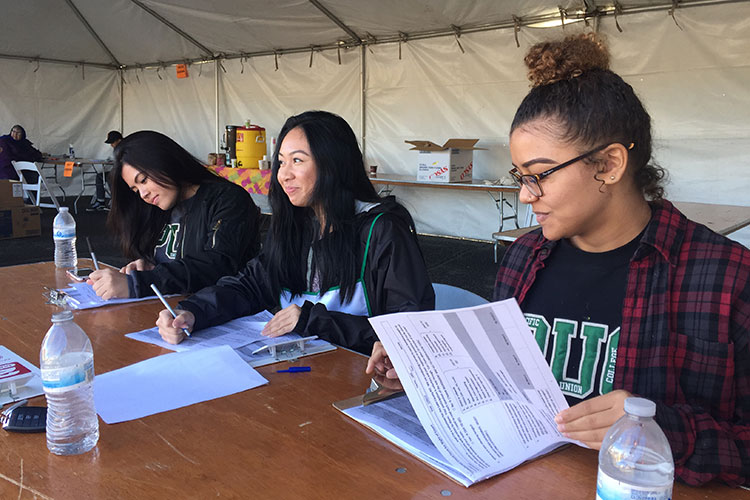 Thirteen students from Pacific Union College assisted Lake County Continuum of Care (CoC) officials with a Point-In-Time (PIT) count of the county's homeless population on Tuesday, January 24. These counts, required by the federal Department of Housing and Urban Development, provide an overview of the homelessness in the region and the information necessary for the county to be eligible for federal funding for programs and housing for the homeless. Students from the Statistical Methods and Human Behavior and the Social Environment classes participated in the event.
Over 100 volunteers helped with the PIT count. PUC students worked in two areas, Middletown and Clearlake, with some students working with community members to visit known homeless encampments while others were stationed at a church or large tent to help guide the homeless through a 28-question survey. Food, water, flu shots, HIV/Hepatitis C testing, and dog food and other supplies were available to survey participants. PUC's Clearlake Homeless Ministries provided hygiene items such as deodorant, laundry detergent, and feminine hygiene products to be distributed to help incentivize participation in the survey.
"Surveying people experiencing homelessness benefits many organizations in Lake County financially in the long term, and we hope that analyzing the information collected will give Lake County's leaders insight into the people living without shelter in their county. The provision of services such as HIV/AIDS testing, flu vaccines, hot food, and pet services are beneficial to the population in the short term, and were well received by the many people with whom we interacted," said psychology instructor Christy Mantz, who also serves as the service-learning coordinator at PUC.
PIT Count Coordinator Marylin Wakefield, who also serves as Grants Coordinator at St. Helena Hospital Clear Lake, expressed her appreciation to the volunteers from PUC for their help, saying, "The Pacific Union College students and professors were great collaborators. The students were eager to be involved and learn more about the survey process and about homelessness in a neighboring county. They also applied what they're learning through serving at the survey site and compiling and analyzing the data we gathered together."
Junior social work major Sabrina Solorzano was one of the students who participated in the count, and she wasn't quite sure what to expect. Though she had volunteered with homeless outreach events in the past, it was her first time helping with a PIT count. One interview in particular stuck out to her—with a woman who had lost her home in one of the fires that ravaged the area in the last two years. "I felt compassion for her because I know this is not the way we should live," Sabrina said. "It pains me to realize how privileged I am, even as a minority. I feel as though I have a lot more to offer than what I've accomplished so far. … I believe it's my mission as someone who loves Christ to share love with others rather than containing it within."
With help from students in the Statistical Methods class taught by professor Lloyd Best, data from the PIT surveys will be analyzed to provide Lake County with information about the homeless population within their community.
Search
Keywords
Archive
PUC in Outside News
Campus Updates