Calvin Rock Shares Untold Stories of Adventist Pioneers and Protests
By Larissa Church on February 9, 2017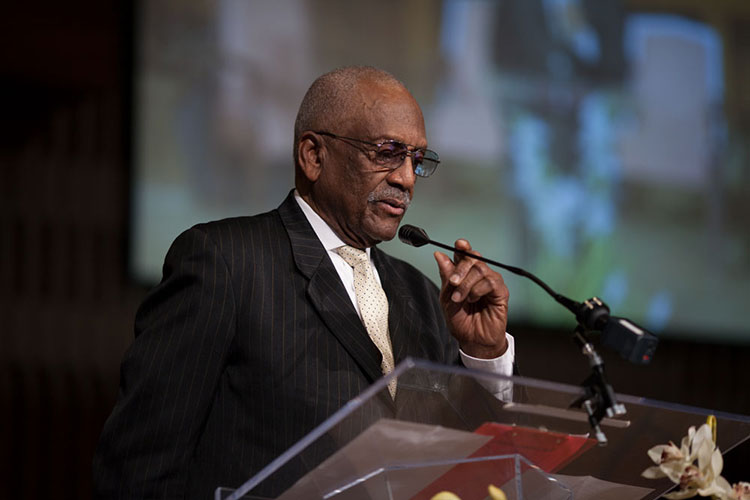 Pacific Union College invited Dr. Calvin B. Rock, retired vice president at the General Conference of Seventh-day Adventists, to share his knowledge and experience with students, faculty, staff, and the campus community in celebration of Black History Month, as the featured speaker for the Colloquy Speaker Series and the 2017 lecture of the Percy and John Christian Civil Rights Conference Center.
A passionate evangelist, Rock has devoted more than 60 years of service to the world church, including serving as the president of Oakwood College (now University), and pastored throughout the United States and abroad in places such as Russia, England, Africa, and Romania.
On Thursday, February 2, Rock addressed students, faculty, and staff for Black History Colloquy. His talk, titled "Heroes and Heroines in Black and White: Where Do We Go From Here?" by explaining he would be taking a different approach to honoring Black History Month. Rather than discuss the many accomplishments of various distinguished and well-recognized black African-Americans, he decided to share stories about men and women who had personally impacted his life and were also pioneers of social justice within the Adventist Church. Peppered with anecdotes and praise for their efforts, Rock shared stories of people such as Roy Branson, former associate dean and professor of the Loma Linda University School of Religion and co-founder of Spectrum Magazine; James Roddy, who has served as an associate professor of physical education at Oakwood University for over 50 years; Charles E. Bradford, the first African-American president of the North American Division of the Adventist Church; and Etta Little-John, one of the 16 original students to attend Oakwood in 1896. Little-John is also the mother of Bradford and grandmother of Rock. A common thread connecting all of them was their dedication and drive for equality, no matter how big or small the issue.
In closing, Rock offered encouragement and hope for the future, praying, "You and I, ladies and gentlemen, are living in a world of turmoil, but not for long. Politics gone awry, but not for long. Cultural divide, but not for long. Riots, hate crimes, ethnic cleansings, unimaginable atrocities, hidden animosities, revenge, recriminations, and fears, but thank God we have hope for a better day. Let us pray, not for long."
Following the Colloquy service, Rock spent time visiting classes and engaging with students. One of the classes he visited was Personal Money Management, where he discussed triumphs and challenges he has faced in life regarding financial and non-financial decisions. "Dr. Rock is very clear about one thing: He knows Jesus has been the source of his success over his 60 plus years of esteemed ministry and service to Him is Dr. Rock's purpose in life—even at 86," said Dr. John Nunes, chair of the department of business.
Rock shared his personal journey with racial injustice, both in the broader American communities and in the Seventh-day Adventist context, with the God and Human Suffering class. His openness and transparency was appreciated by students, particularly when discussing the Black Lives Matter movement. Dr. Jean Sheldon, professor of Old Testament, shared, "I very much appreciated his willingness to address this issue from his own journey because it allowed students the opportunity to increase their understanding and empathy, as well as take away a greater sense of justice."
Rock also visited several theology classes, including Ministry Colloquium and Contemporary Issues in Seventh-day Adventism, to share his experience in local church ministry and serving as president of Oakwood and as a vice president at the General Conference, and to discuss racial and social justice issues in Adventism. "I think we all left with a better understanding of the important progress that has been made in the Adventist Church in the area of social justice and equality, and yet on this side of the Second Coming we cannot expect all differences to be ironed out among the saints," said Dr. Reimar Vetne, associate professor of New Testament.
Sabbath afternoon, February 4, Rock gave his lecture, titled "Protest and Progress: Untold Stories in Adventist History," reflecting on the hardships black African-Americans have faced for decades and their fight for equal opportunity and recognition, both within and outside of the denomination, and their responses to these challenges. He also spoke in favor of the creation of black unions and conferences, for there to be quality, indigenous leadership within the African-American community.
Rock also commended the college on the establishment of the Percy and John Christian Civil Rights Conference Center, which was founded to honor two Adventist educators deeply committed to the goal of racial equality. "God bless you, board leadership, college leadership, students, and the constituency for your vision and energies towards the understanding, establishment, and perpetuation of social justice. May your fervor never wane, your faith never fail, your example be system wide and contagious, and the God of justice and mercy prosper you abundantly," he said.
For the full audio of Dr. Rock's Colloquy presentation, visit the Library Media Services website. The lecture presentation will be available shortly.
Search
Keywords
Archive
PUC in Outside News
Campus Updates