PUC Alumni Reconnect, Share Memories at Homecoming 2017
By Larissa Church on April 26, 2017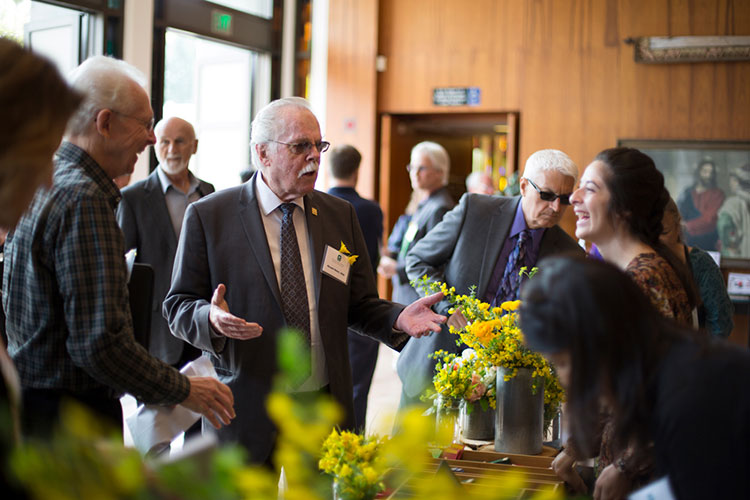 Pacific Union College alumni were welcomed back to campus for the college's annual Homecoming Weekend April 21-23. "The College on the Mountain" holds special memories for all PUC alumni, whether it has been five years or 50 since their graduation, making this the perfect opportunity to reminisce with old friends.
The events began with PUC Talks Friday afternoon, featuring presentations from Dr. Jean Sheldon, Dr. Nancy Lecourt and Peter Lecourt, and Dr. Vola Andrianarijaona, followed by the annual Honored Alumni dinner. This year's honorees were J. Paul Stauffer, '38, whose long career in education included teaching for many years in PUC's department of English; Teri Ann Ricchiuti, '76, who has taught at Fresno Adventist Academy for 30 years; Scott Reiner, '87, who currently serves as president and CEO of Adventist Health; and Arnold Petersen, '62, who has traveled extensively around the world as a physician providing much-needed care to underserved areas.
Later that evening, the In Memoriam service was held in remembrance of alumni who have passed away during the last year. Vespers featured the dedication of next year's 25 student missionaries and a special performance of several songs by the PUC vocal octet. Chaplain Jonathan Henderson, '98, gave the program's message.
Sabbath morning, the church foyer was peppered with the sounds of alumni delighted at reconnecting with old friends and family. During Sabbath School, alumni shared their favorite memories of PUC professors, reflecting back on their time spent on campus. Elder Charles White, '66, also told stories of Ellen G. White, his great-grandmother, and her critical role in helping co-found PUC. The church service speaker was President Eric Anderson, whose talk was titled "Living in the Time of the End." He encouraged the congregation to remember what's truly important in life: compassion, kindness, patience, and forgiveness. In closing, he said, "Whatever you are doing when you speak or act, do everything in the name of the Lord Jesus, giving thanks to God the Father through Him. This is how to live at the end of time. Until Jesus returns, Pacific Union College will keep on teaching the power of living that way."
Following a delicious alumni luncheon in the Pacific Auditorium, the afternoon included a full schedule of events for alumni and guests to attend, such as honored class parties, several art exhibits, the annual Friends of Walter C. Utt gathering, a slideshow featuring PUC through the years, and a piano tribute to Dr. Lynn Wheeler, chair of the department of music, who is retiring after 46 years of service at the college. A special concert featuring operatic soprano Marnie Breckenridge, '93, closed the Sabbath. Pioneers Athletic alumni games were held in the evening and Sunday morning.
To view photos from these events, visit our Homecoming Weekend gallery. Mark your calendars for next year's Homecoming, scheduled for April 20-22, 2018. We look forward to seeing you at Homecoming next year!
Search
Keywords
Archive
PUC in Outside News
Campus Updates