Pioneers Sign Student Athletes, Three from Union Academies
By Dana Negro on March 9, 2016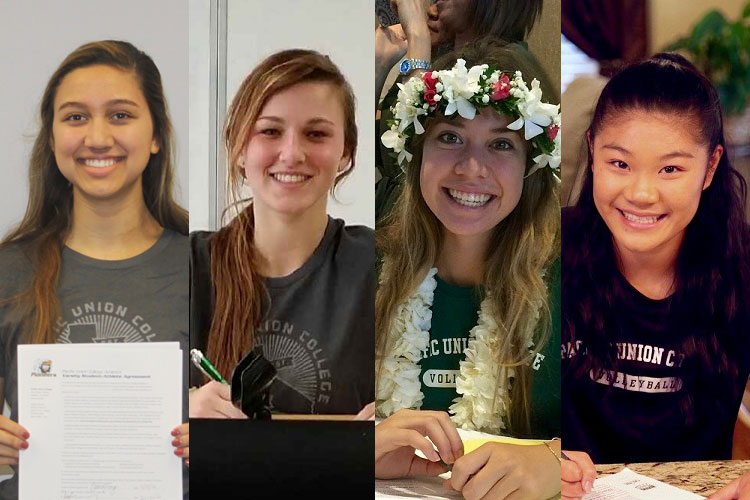 Pacific Union College Athletics is excited to announce the signing of four new student athletes to the Pioneer family! Joining our Lady Pioneers will be CeCe Ewing (basketball), Brooke Sumner (basketball), Audrey Uyemura (volleyball), and Morgan Spencer (volleyball).
CeCe Ewing, a shooting guard from Loma Linda Academy, was named First Team All-League three consecutive years, MVP her junior and senior seasons, and offensive MVP her sophomore season. "I am excited to be a part of a brand new team. I am also grateful to be at the same school as my big brother," Ewing says. Graduating with high honors, Ewing plans to major in psychology at PUC.
Brooke Sumner, a shooting guard, hails from Escondido Academy and La Sierra University. While playing varsity basketball in academy, she received First Team All-League both her junior and senior season. She was also named MVP three consecutive years, and was also Athlete of the Year her junior season. Sumner played softball, volleyball, and golf in academy as well. "I can't wait to be pushed to my limit and make the PUC spirit stronger than ever," she says. Sumner plans to study physical education and dental hygiene at PUC.
Audrey Uyemura, a libero from Loma Linda Academy, has led her team to four consecutive CIF playoff appearances, and leads her team in both aces and digs. She was named the academy's defensive player of the year, and was also co-captain of the team both her junior and senior seasons. Uyemura also plays for the Mavericks Volleyball Club, one of the top club teams in the nation. Coach Brown says, "We are lucky to have a high caliber student-athlete like Audrey commit to PUC. She is an extremely athletic and smart player who has competed at a high level. She is well versed in the classroom and will fit in perfectly with our team culture." Uyemura plans to study physical education at PUC.
Coming from Iolani High School in Hawaii, Morgan Spencer joins the Pioneers as an outside/opposite. Named team captain her senior year, she helped her team capture the Interscholastic League of Honolulu Championship and was runner up in the Hawaii State Volleyball Championship in 2015. Spencer also plays for the Kuikahi Volleyball Club, and was selected twice to play for the Aloha Region High Performance Team and the USVA A2 camps.
Coach Brown states, "Morgan will be a huge addition to our roster. She is a six rotation player that can execute all four skills. Most importantly, Morgan is a top notch student and will be a great addition to PUC in the classroom and off the court." Spencer plans to study business finance at PUC.
As the 2016-2017 Pioneer teams begin to take shape, the coaches and current players look forward to another exciting year!
Search
Keywords
Archive
PUC in Outside News
Campus Updates