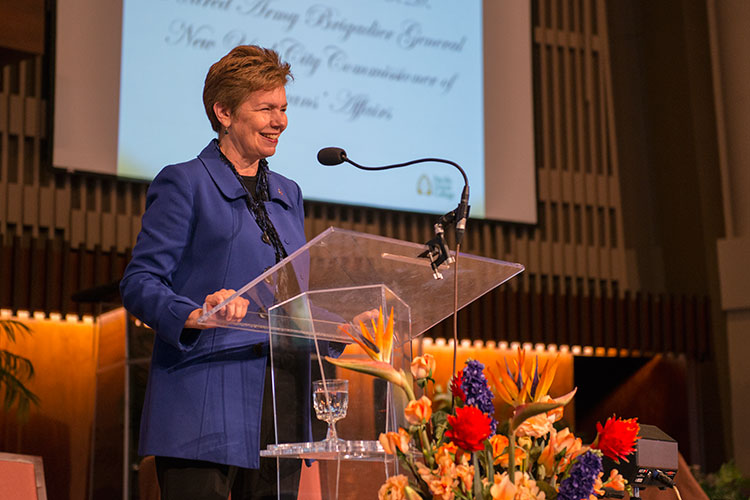 Pacific Union College hosted its 35th annual Career Day on Thursday, March 3. This highly attended annual event offered students a unique opportunity to connect with close to 50 working professionals, many of whom were PUC alumni, in various fields of interest ranging from U.S. Marshals to educators to professionals from companies such as Adventist Health, LinkedIn, TiVo, the Sacramento Kings, and more. The event began with a special Colloquy presentation by Dr. Loree K. Sutton, a PUC alumnus, distinguished retired Brigadier General, and the recently appointed commissioner of veteran's affairs in New York City.
Sutton addressed a full church imploring students to be their best self and to take every opportunity that comes their way. "The world needs our gifts. Keep your eyes open, we are transforming the narrative," she said. "I challenge you to think of how to prepare yourselves to continue serving."
She also expressed how thankful she was for her education at PUC. "In preparing to come back and talk with you today, I was overcome with gratitude; gratitude for all that this place and the people who have been here and who are here and who will be in the years to come; all that I received here prepared me for going forward into the world."
Sutton is the founding director of the Defense Centers of Excellence for Psychological Health and Traumatic Brain Injury (DCoE). During her military career, she received many awards, including the Legion of Merit, Bronze Star Medal, Meritorious Service Medal, and the Order of Military Medical Merit.
"It was really inspiring to hear from a PUC alum who has done so many amazing things in their career. Knowing she has sat in many of the same classrooms I have gave me so much hope for where my future can take me," shared senior business major Chris Romero.
After Colloquy, students gathered in the Dining Commons to network with visiting professionals for Career Day and learn more about the possibilities available to them after college. The event provides students with a chance to see how their education at PUC can help them continue on to new and exciting places.
Search
Keywords
Archive
PUC in Outside News
Campus Updates