Freshman Sam Delaware Named Youth Photographer of the Year
By Larissa Church on May 2, 2016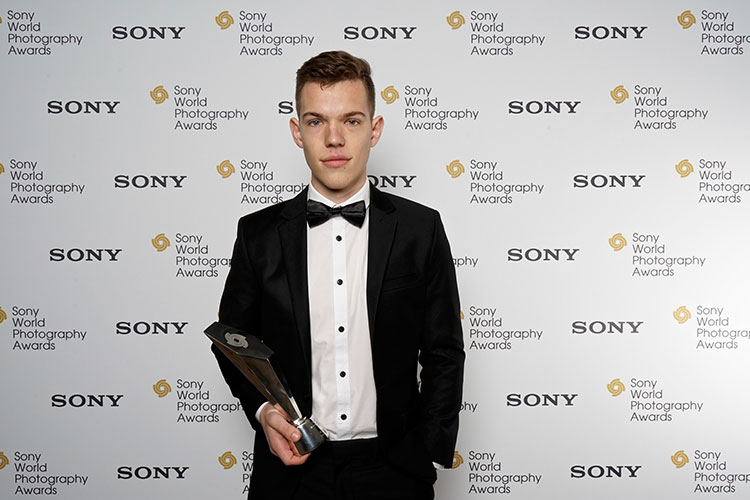 Pacific Union College is delighted to announce Sam Delaware, an 18-year-old freshman photography major, has been named Youth Photographer of the Year in the 2016 Sony World Photography Awards. The recognition follows his win in the competition's Youth Portraits category.
Delaware came to PUC from Pine Tree Academy in Freeport, Maine, as one of the college's five Maxwell Scholar recipients in 2015, PUC's most prestigious scholarship. He was senior class president, a member of the National Honor Society, a Phi Beta Kappa Award recipient, and first chair trumpet in the academy band.
PUC professor Brian Kyle, who is Delaware's photography instructor, commended him on his win, saying, "Sam is a talented photographer and dedicated student of the arts whom I am thrilled to have here at PUC. The fact that such a young student is already being publicly recognized for his talents is a testament to his dedication, passion, and artistic vision."
Delaware's entry was titled "Sarah," and is a portrait of his sister. When asked about the inspiration behind the winning photograph, Delaware shares, "After moving to a university across the country, I understood I'd miss my family; my mother and father, and especially my sister. Like so many millions of other young adults around me, I left my family and my home this year for the first time, and in an instant, they were no longer a daily part of my life. I wanted to somehow speak to the mixed feelings I was experiencing; excitement, for the life I was about to begin, and nostalgia, for the one I was leaving behind. Traveling back to Maine for a short time allowed me to create this somewhat spontaneous image of my sister, giving me the opportunity to express this change in the best way I knew how."
The Sony World Photography Awards is the largest and most comprehensive photography competition in existence today. This year, the organization received a record-breaking 230,103 entries submitted from 186 different countries. The Youth competition of the awards is open to any photographer between the ages of 12-19 and is judged on just a single photograph within three categories: Culture, Environment, and Portraits. Delaware's win in the Youth Portraits category positioned him to compete for the overall Youth Photographer of the Year title. He was joined by 17-year-old Sepehr Jamshidi Fard from Iran, winner of the Culture category; and 12-year-old Anais Stupka from Italy, winner of the Environment category.
The awards are organized by the World Photography Organisation, a global platform which features photographers with a wide range of abilities and provides them with the opportunity to promote their work as well as receive worldwide exposure and recognition. Competition winners received a Sony ɑ7R II camera and their winning photographs are currently on display at the prestigious Somerset House in London, England, from April 22 through May 8. Their images will also be published in the 2016 Sony World Photography Awards book. To receive his award, Delaware was flown to London to attend an awards gala and ceremony.
"I'm extremely honored to be recognized at this stage in my career," Delaware shares. "The World Photography Organization is an incredible platform both for young artists and established professionals, and I'm really quite grateful to be recognized along such immense talent. … Above all else, the award has given me some validation that I'm headed in the right direction—it's strong motivation to keep making better and better imagery."
To learn more about the Sony World Photography Awards, as well as to view Delaware's winning entry and other competition photographs, visit worldphoto.org.
Search
Keywords
Archive
PUC in Outside News
Campus Updates