Communication Chair Michelle Rai Named Educator of the Year
By Michael Lawrence on April 29, 2016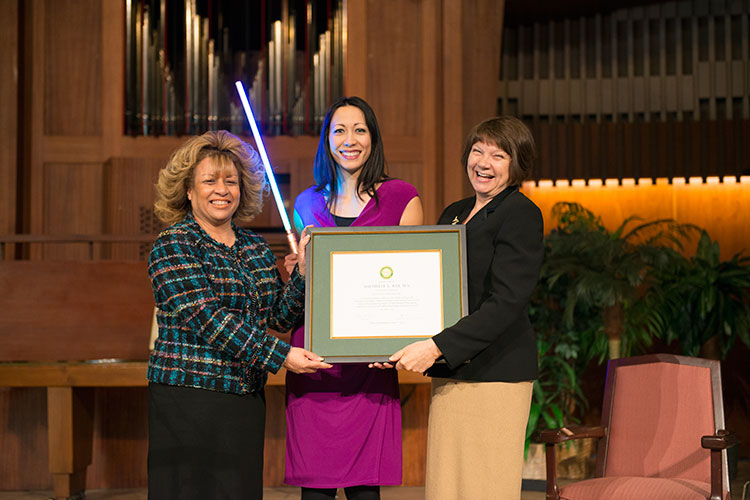 Assistant professor of communication and department chair Michelle Rai, M.S., was named Educator of the Year 2016 during the colloquy program on April 28. Faculty, staff, students, and administration all celebrated with Rai as she was recognized for this prestigious award for the first time. Rai has been a professor in the department of communication for the past ten years and chair for the past eight.
"Faculty and students alike are pleased with the choice of Michelle, whose hard work and collegiality have allowed the Communication department to grow into one of the largest on campus in recent years," says Dr. Nancy Lecourt, academic dean and vice president for academic administration.
This distinction, determined solely upon student vote, recognizes an outstanding educator each year. Rai was praised by students for her ability to connect on personal levels and willingness to make time for students. Talissa Romero, junior health communication major, described Rai's dedication to her students as, "a phone call or text away, responding to text messages faster than you can blink your eyes."
An alumnus of PUC, Rai graduated in 1997 with a degree in both communication and journalism. A home-grown member of the college's faculty, Rai started her career at PUC as an enrollment counselor in the Enrollment Services office. Five years later, she became the college's director of public relations until she began teaching in 2006.
2015 honoree professor Lloyd Best opened the colloquy program with his "Reflections on a Life of Teaching." During his speech, he attributed his teaching successes to past professors in his education, particularly the ones who challenged him. Best humbly thanked the student body for recognizing him last year and closed by saying, "I am just so pleased I've had the privilege and opportunity to be a teacher to many of you students for so many years."
Best then announced Rai as Educator of the Year 2016, 'knighting' her with a lightsaber in true Jedi fashion.
Doug Wilson, director of student activities, began the traditional comedic "toast and roast" by stumbling through a poem read by him in Hawaiian, the native language of Hawaii, where Michelle is from. He then presented "The Many Faces of Michelle" with some never-before-seen photographs from Rai's past and present, highlighting her love of teaching, tennis, volleyball, and family. Milbert Mariano, chair of the department of visual arts, shared his experiences working under Rai's leadership as the college's public relations director.
Tammy McGuire, fellow professor of communication, concluded the program touching on Rai's "magical" ability to build relationships and mentor with compassion and without judgement. "That magic that [Rai] has, is a gift to PUC," McGuire said. "It's no surprise whatsoever, that [her] students love [her] so much."
To read more about past Educator of the Year recognitions, visit the News & Events archives at puc.edu/news/archives.
Search
Keywords
Archive
PUC in Outside News
Campus Updates