World Missions Week Inspires Future Missionaries
By Emily Mathe on February 13, 2015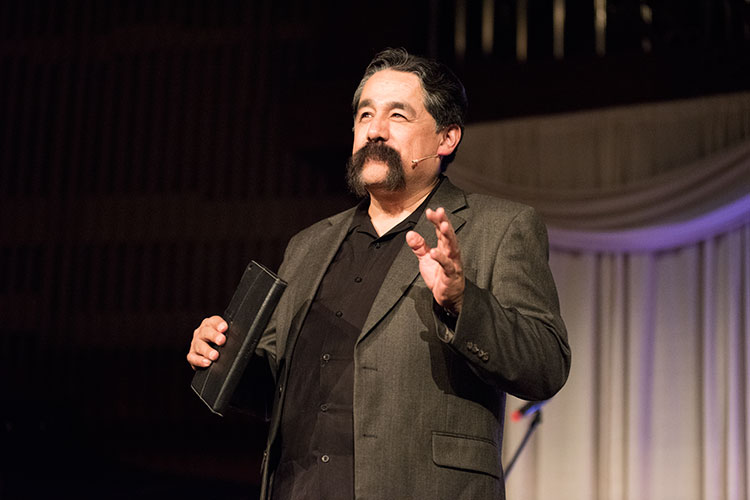 Pacific Union College's emphasis on world missions has a long and distinguished history. Over 1,300 student missionaries have served in countries as diverse as Chile, the Czech Republic, Kazakhstan, Kenya, the Marshall Islands, and South Korea. In recent years, PUC has continued to send dozens of student missionaries to countries around the globe, providing much needed medical aid, construction assistance, education, and of course the messages of the Gospel. During the college's recent World Missions Week, the focus is all on helping future missionaries understand why they should serve and how they can make it happen.
World Missions Week, January 26-30, gave students a look at what is entailed by mission work abroad—the rewards, as well as the toil. During the week, there was a table at the front of the Dining Commons manned by the staff of the PUC World Missions office, ready to answer questions and share their student missionary experience. Elden Ramirez, director of the North American Division of Seventh-day Adventists' office of volunteer ministries, visited campus to connect with future ministries. In addition, the world missions staff held a workshop on financing student missionary work, an important step for hopeful students ready to give of their time. To finish the week of spiritual missions emphasis, Jose Rojas continued his tradition of speaking to PUC students on behalf of service. Rojas' vespers took place Friday, January 30.
Whether students decide to go for a school break, a quarter or two, or choose to spend a year or more in a foreign country, all of them come back with altered perspectives and a new idea of what it means to serve God, an important part of the college's mission. For more information about PUC's mission services, visit the website of the PUC Office of Service, Justice, and Missions.
Search
Keywords
Archive
PUC in Outside News
Campus Updates