Students Commit to Spiritual Growth During PUC's Annual Fall Revival
By Staff Writer on October 13, 2015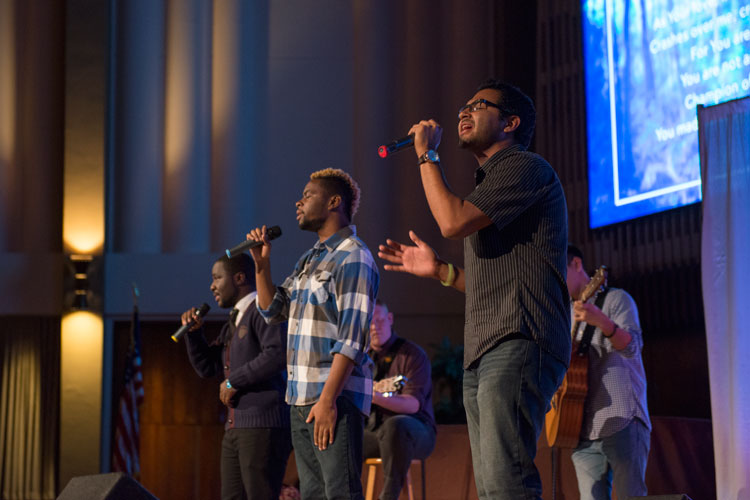 Pacific Union College presented its annual fall revival week from Monday, Oct. 5, through Sabbath, Oct. 10. The week's featured speaker, Campus Chaplain Jonathan Henderson focused on "The Adventist Advantage," a platform developed by President Heather Knight which emphasizes the value of being Seventh-day Adventist in a contemporary world.
The week's events were designed to emphasize the seven points of "The Adventist Advantage," which are meaning and purpose found by a connection with Christ as our personal savior; health, wellness, and a wholesome lifestyle; education, caring about the life of the mind and lifelong learning; ethics and morals; generous service; diversity; and stewardship of the earth, which is tied to the Sabbath.
Services were packed with shared testimonies, special musical, and heartfelt prayers. Henderson emphasized the importance of the PUC campus becoming a cohesive, support-driven community, with every member fully committed to "fighting for the rights of those who are marginalized."
Henderson also called for an increase in the mindset of service, which is intended to be key component of the PUC experience. "If you're willing to let Christ be your companion," Henderson claimed, "then you will have a happiness that will never fade." Various altar calls during the week offered students the opportunity to renew their commitment to grow toward spiritual maturity.
The week culminated with a student baptism during Friday night's vespers program. Senior communication major Leanna Arredondo chose to dedicate her life to God's calling. "The most important [reason to get baptized] to me was probably just the idea of publicly saying thank you to God for all that He's done and committing my life to him," explained Arredondo.
PUC's assistant chaplain, Shantel Smith, performed Arredondo's baptism. "Leanna has an amazing testimony, which she shared with me and then asked me if I'd be willing to baptize her," said Smith. "The baptism that night was a very spiritual experience, and…the way it was conducted opened up the door for people to commit, or recommit, their lives."
That same night, more than 25 other students accepted the challenge to volunteer their time and effort to serve Christ after the conclusion of the Fall Revival week. Arredondo expressed gratitude that her baptism helped spark a renewal of spirit in other students.
Search
Keywords
Archive
PUC in Outside News
Campus Updates