Astronaut Encourages PUC students to Reach for the Stars
By Staff Writer on November 11, 2015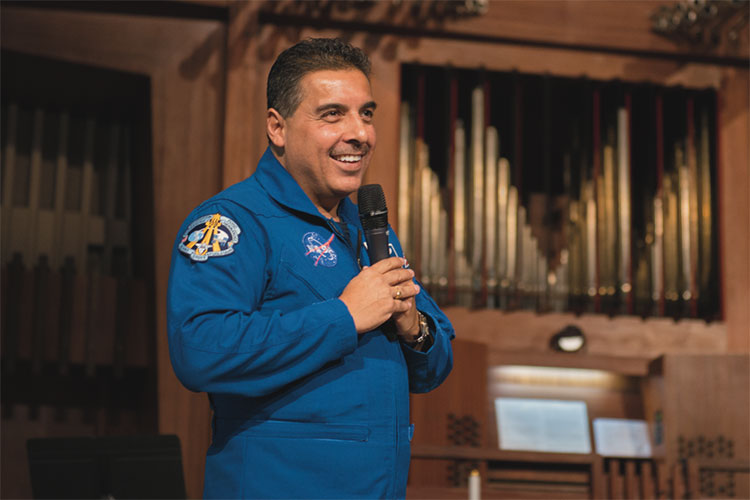 Pacific Union College welcomed back former NASA astronaut Jose Hernández as guest speaker for the November 5th Colloquy Speakers Series. Students from PUC, PUC Preparatory School, and PUC Elementary were inspired by Hernández's personal journey from the strawberry fields of California's Central Valley all the way to his 5.7-million-mile voyage with the International Space Station in 2009.
Hernández encouraged students to persevere in their lifelong pursuit of ambitious goals. "It's ok to dream big. It is ok to set very high standards, very high goals for yourselves," he said to a packed PUC Church.
The son of migrant farm workers who traveled with the growing seasons from Michoacán, Mexico to the farmlands of California, Hernández grew up picking fruits and vegetables alongside his brothers and sisters. He didn't learn to speak English until he was 12. His parents, despite having only a third-grade education themselves, did their best to keep the children in school as much as possible as they moved with the crops.
At the age of nine, Hernández discovered his dream of becoming an astronaut when he watched the final Apollo lunar mission on TV. "I would go outside and see the moon in its full glory. Then, I would come back inside and see astronaut Cernan walk on the moon," he said.
He said that is when he made a decision: "That's what I want to be," he said. He shared his newfound dream with his father that night. His father sat him down at the kitchen table and gave him the ingredients to reach his dream. "You follow this to a tee, and I guarantee you will reach your goal," his father claimed. They were:
Decide what you want to be when you grow up.

Recognize how far you are from your goal.

Develop yourself a roadmap to guide you to reaching your goal.

Stay in school—there is no substitute to your good education.

Establish a strong work ethic and always give more than what people expect of you.

"I went to sleep so happy that day because I thought, 'Wow! My dad thinks I can be an astronaut!'" he says. "I've never looked back since. I applied that simple five ingredient recipe. The only thing I would add is perseverance."
After graduating high school in Stockton, Hernández enrolled at the University of the Pacific in Stockton, where he earned a degree in electrical engineering and was awarded a full scholarship to the graduate program at the University of California in Santa Barbara, where he continued his engineering studies.
"Perseverance means never giving up," Hernández said. "NASA rejected me 11 times." After his twelfth attempt, he was finally hired by NASA. In 2009, Hernández was the first Mexican-American to travel into space. He was assigned to the crew of Space Shuttle mission and on August 28 of 2009, his dream became a reality.
Hernández said his faith in God grew stronger from his experience in space. As he looked out from the shuttle window at the Earth below, he was awed by the vastness of the universe. "People always ask me if I am a religious or not. This made me even more so. It's too perfect to for it to be a coincidence. This [experience] certainly made me believe in God more."
Search
Keywords
Archive
PUC in Outside News
Campus Updates