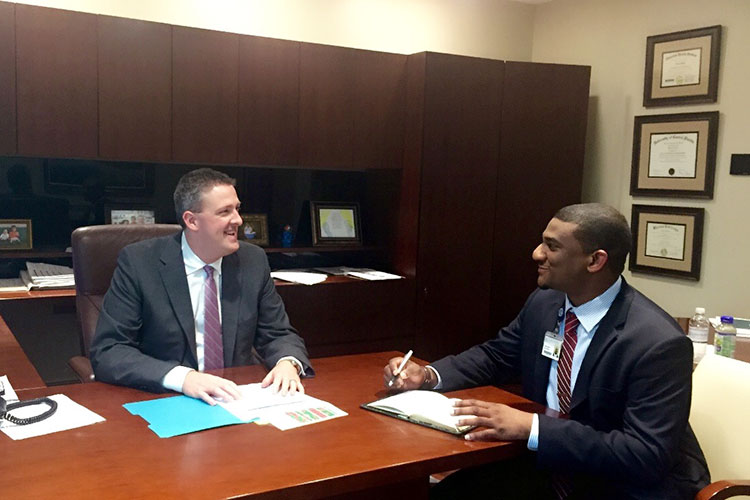 Pacific Union College has a rich history of equipping students with a passion for health ministry and leading lives of productive service in the industry. With employment of medical and health services managers to grow by 23% by the year 2022, PUC's department of business expands its educational offerings to meet this demand.
The Bachelor of Science in management for medical professionals is designed for students who wish to combine a pre-professional track (such as pre-medicine and pre-dentistry) with a business degree. The program will provide students with a greater knowledge of management principles for the purpose of starting a practice, becoming a healthcare leader, or gaining a better understanding of the industry prior to entering graduate studies.
"Young Medical Professionals (M.D., D.D.S., D.O., D.P.T., Pharm.D., etc.) are entering a challenging work environment with the implementation of the Affordable Care Act (ACA) and its emphasis on efficient and effective operations and quality management in healthcare settings," says John Nunes, associate professor of business. "Having a business degree to supplement the sciences needed to succeed in medical and allied health professional programs will enhance the ability of young medical professionals to deliver a pleasurable experience for patients at sustainable levels of profitability. This will be very critical in 21st century healthcare landscape."
The B.B.A. in healthcare management prepares business students for careers in environments such as hospital administration, nursing homes, and medical practice management. Nunes says a number of PUC graduates end up going into healthcare management after graduation. "We have a good network of career and internship opportunities with healthcare organizations, and a number of our students demonstrate interest in a healthcare administration career while studying business," he explains. "This degree provides them with specific healthcare-focused courses in fund accounting, healthcare economics, healthcare management, and healthcare law to develop their competencies in a specific healthcare industry context."
According to Rodney Hardcastle, chair of the department of business and economics, a goal of this program is to combine class preparation with health-related internships, especially placements with Adventist Health.
This past summer, Christopher Lawrence, a PUC accounting major, was one of over 100 applicants from a variety of higher education institutions (the only student from California) accepted into the 2015 Leadership Development program at Adventist Health Systems. "I worked on numerous projects this summer, ranging from strategic operations to finance and accounting," reports Lawrence on the hands-on experience he received during the 12-week internship. "This internship has strengthened my desire to become a financial leader in the Adventist healthcare industry. My plan is to continue in the way I believe God has shown me and extend the healing ministry of Christ with the gifts He has blessed me with."
Students interested in the new business degrees should visit www.puc.edu/admissions or call 800.862.7080 option 2 to talk with an enrollment counselor.
Search
Keywords
Archive
PUC in Outside News
Campus Updates