Opening Convocation Address Sets Pace for New School Year
By Emily Mathe on October 9, 2015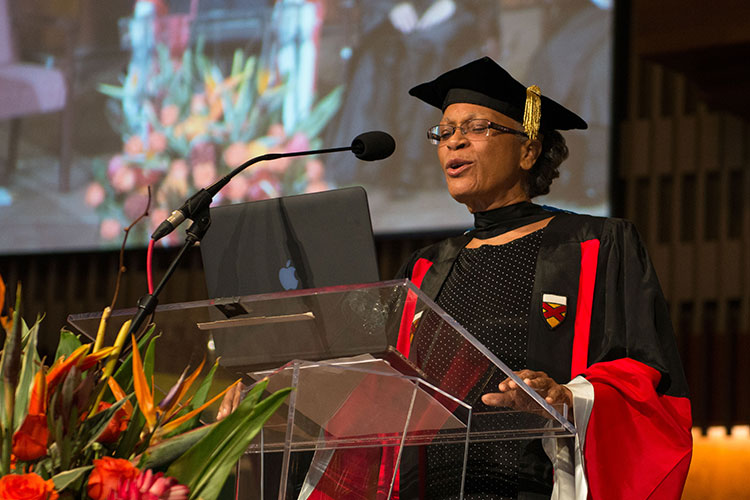 Pacific Union College kicked off its 2015-16 academic year on Thursday, September 24, with the Opening Convocation, where speaker Dr. Arnetha F. Ball encouraged students to pursue God's plans for them during their time at PUC.
The service began with the traditional procession by PUC faculty in full academic regalia. The string section of the PUC orchestra followed with a brief musical performance.
President Heather J. Knight welcomed a packed PUC Church to the beginning of the new school year and introduced Dr. Ball, whom she befriended while working on her doctoral degree at Stanford University. Christian vocalist Margie Rice Oliver wowed the audience with a solo of "I Believe," a song chosen specifically to align with the Convocation theme.
Dr. Ball, professor of education and co-director for the Center for Race, Ethnicity and Language (CREAL) at Stanford University, set the tone for the academic school year. She told students God's plan for them involved the Christian education being provided for them at PUC. "I believe that God has a plan for your life," she asserted. "You're here, right where God wants you to be," she affirmed.
Ball's talk, entitled "I Believe," drew from her personal history growing up in a family that struggled to make ends meet. She mentioned she could never have foreseen herself as a faculty member at the prestigious Stanford University, but by following God's plan for her life, she reached the destination He intended for her. Ball discussed the concepts of understanding and wisdom, and how both can be fostered through a Christian education. Ball explained how understanding can be gained through both secular and religious education. "Wisdom is the application of Holy Scripture, prayer, and divine providence to solve human problems," she clarified, explaining the differences between the two principles. "Wisdom comes from the Almighty God," she stated, quoting James 1:5.
"I believe that perhaps, that's one of the reasons, why God has brought you here, to this place at this time, so that you, students, can be be nurtured in understanding and in wisdom under the loving watch care of His servants that [are] placed here just for you."
Ball finished by providing students with the "ABCs of Success," with each precept corresponding to one letter of the alphabet. After the conclusion of Ball's presentation, the faculty, followed by the rest of the student body, filed out of the sanctuary, ready to face the new school year with a revised outlook and a new understanding of success.
Search
Keywords
Archive
PUC in Outside News
Campus Updates