Reinvented Honors Program Continues Tradition of Excellence
By Emily Mathe on March 2, 2015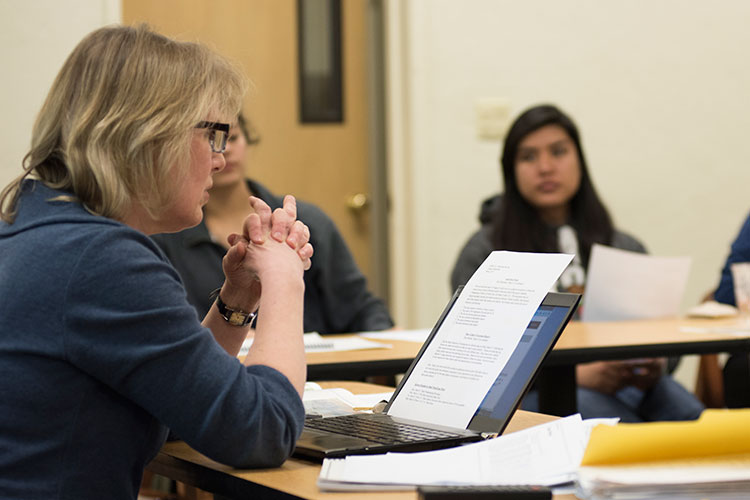 The Honors Program at Pacific Union College provides an alternative to traditional General Education requirements, enrolling students in classes that depart from a traditional lecture format to encourage a lifetime of critical thought, aesthetic appreciation, and spiritual prosperity. Recently, the program was reinvented to meet the needs of more pre-professional students while still retaining its great books legacy and liberal arts tradition.
Since its inception, the PUC Honors Program has maintained its status as an excellent educational route by offering semi-weekly seminars, each with a different focus. The Honors Program has always offered students a variety of opportunities to work closely with professors, especially on the senior-year capstone Honors project; study abroad to learn about art, history, architecture, etc.; hone leadership abilities as well as scholastic skills; seek truth by engaging in a journey of personal growth and spiritual development; and raise their academics to a distinguished level in preparation for graduate school applications. The program director, Professor of English Georgina Hill, says Honors provides "a stimulating, alternative environment, focused on in-depth understanding through lively discussions."
According to Hill, the program underwent its makeover in the fall of 2014 to create scheduling flexibility, add more variety, provide cross-cohort classes, and offer the opportunity (but not the absolute requirement) of an abroad seminar.
While the program has been a success since its inception, students occasionally faced challenges meeting the required number of seminars alongside the rest of their course requirements. "The previous curriculum required an evening seminar every term for four years," explains Hill. "Some students had terms where major class requirements left no room for an Honors seminar, but if they got out of the seminar sequence, it was very challenging to make up the missing seminar. Students returning from an Adventist Colleges Abroad year struggled to fit in the requisite seminars without adding an additional year of study."
The flexibility of the new program has already met with approval by pre-professional students with science emphases. "[The Honors Program] allows time in my schedule to graduate in four years without compromising my passion for both the sciences and the humanities," says Glorianne Besana, a sophomore history major and pre-med student. "My schedule is built around my laboratories, which usually run over the designated three-hour period—time that could interfere with my late Honors classes. Now that there are classes offered at different times (most importantly, not in the evening) I can spread out my schedule throughout the week and not worry about being rushed for either class."
Though significant changes await the Honors Program, there are several aspects that will remain unaltered: the program will continue to provide a core sequence of seminars that focus on deep understanding of serious issues through reading, writing, and discussion. Likewise, the summer seminars abroad and the senior capstone Honors project remain integral to the new program.
Current students have welcomed the transition to the reinvented schedule. "I really like the changes to the Honors Program," says Tara Hattendorf, a junior pre-law student and political science major. "I like the variety and choices of Honors classes we can take now. … It's fun to take classes with people from different departments as well as people from different years, so I get to meet a lot of interesting people."
Though the number of required seminars has been reduced, the deficit is made up with electives called H-courses. H-courses are open to PUC's entire student body, so the program has a chance to become less encapsulated and evolve into a more diverse community, while providing more schedule flexibility and giving all students access to unique, in-depth courses. Honors students are also required to take several cognates to round out their studies, which include a lab science, statistics, and two physical activity courses.
"I love that the new program is expanding into areas that the old program didn't focus on as much," shares junior history major Gisella Navarro. "Another upside is that the new program calls for professors to create new classes, so I think it's going to be exciting for both the students and the professors to see what will be offered. … And, because new classes are going to be created in the years to come, it'll be really nice to have more professors be a part of the Honors Program."
Regardless of the changes to the Honors Program, current and future students can rest assured that the program will continue to live up to its mission to educate seekers of truth, distinguished scholars, and capable leaders.
Search
Keywords
Archive
PUC in Outside News
Campus Updates