Nursing Students and Wellness Program Present Health Fair
By Amanda Navarrete on March 13, 2015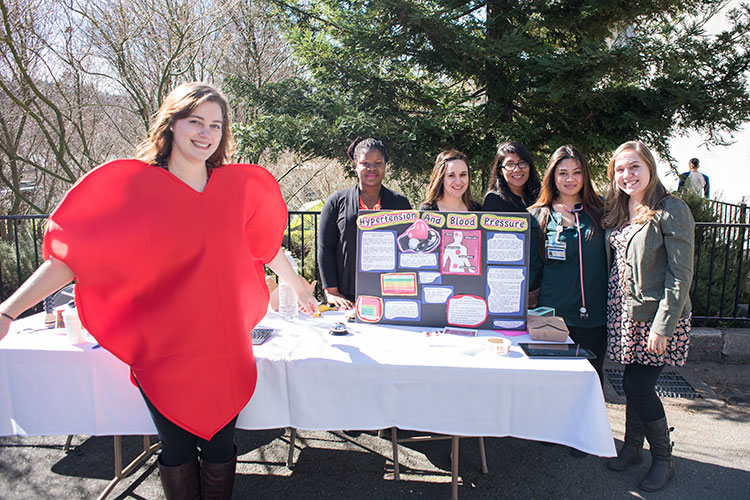 On Friday, February 13, a group of Pacific Union College's bachelor's in nursing partnered with the college's Wellness Program to present a health fair aimed at increasing the awareness and health of PUC students. The fair had information and health assessment tests for heart health, blood sugar, skin cancer, body composition, and nutrition, as well as free foot reflexology. The nursing students also provided information on high blood pressure, lifestyle modifications, and foods to avoid.
The fair was organized as part of Health Care Education, a course that covers the learning theories and educational strategies nurses need to know to develop as educators. "Students learn to write a teaching plan with goals, objectives, evaluation, etc.," shares Susan Allen, the course's instructor. "In the health fair they were able to put into practice what they learned in the classroom."
Erika Torres, a bachelor's of nursing (BSN) student graduating this spring, teamed with her classmates on a station where students could have their blood pressure taken. The BSN students then taught their fellow students about the healthy range for blood pressure numbers. Torres completed her associate's in nursing at PUC, and looks forward to finishing her bachelor's in June. "A lot of people know what their normal blood pressure is," Torres said, "but it's really important to know if your blood pressure is. The lifestyle decisions students are making now can make a big difference for their future."
"The BSN students are really stepping up with engaging people," shared Holly Jeske, who coordinates the Wellness program. "They got very creative in making their projects interactive rather than just informative." In addition to health education, students could take part in mini-athletic challenges that included burpees, jump roping, and planking, and also had a chance to enter into a $25 gift card drawing.
Charles De Guzman, a student who is part of a leadership course, helped the department of nursing plan the event with his partner in the class. They both had a chance to go behind the scenes. At the fair, they shared a survey to gather tips from fair attendees for the health quarter coming in the spring. "It was really exciting to get hands on experience," shared De Guzman.
Search
Keywords
Archive
PUC in Outside News
Campus Updates