PUC Student Accepted into Leadership Development Program
By Staff Writer on August 20, 2015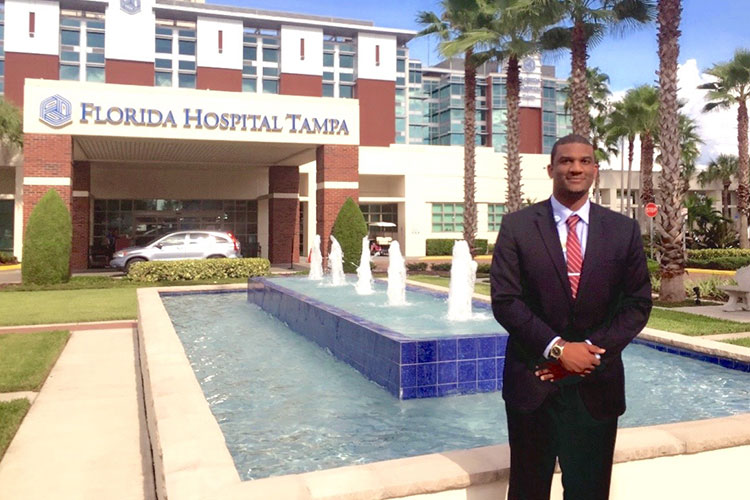 Christopher Lawrence, a junior accounting major, was among 33 college students and recent graduates accepted into the 2015 Leadership Development program at Adventist Health Systems.
One of over 100 applicants from a variety of higher education institutions, Lawrence is the only student from California and one of three students from the west coast selected to participate. The competitive selection process focused on a combination of quantitative and qualitative factors such as academic performance, community service, leadership potential, and an interest in the health care industry.
"This program serves as a vehicle to launch them into a career in health care," said Norman Miles, AHS's director of Leadership Development, in a report released by the organization. "It's an awesome opportunity for interns and residents to develop a deeper understanding of the nuances within the industry, hone their skill sets, and develop a context around what they need to do to prepare for a career in health care."
During his 12-week internship at Adventist Heath's Florida Hospital Tampa, Lawrence is gaining hands-on experience in areas such as supply chain, human resources, and patient financial services. "So far, I have worked on numerous projects this summer, ranging from strategic operations to finance and accounting," reports Lawrence. These projects include primary service area competitive analysis, service line deployment pilot testing, departmental profitability analysis, and human resource policy development.
"Everyone here has helped me grow in so many ways," shares Lawrence. "So far, I have had the chance to work directly with many of the vice presidents, as well as with the CFO, COO, and CEO. This internship has strengthened my desire to become a financial leader in the Adventist healthcare industry."
"The Leadership Development Residency and Internship programs have helped ensure that we have a strong pipeline of emerging Christian leaders who are able to assume various roles within the organization," Miles said. "This year's group is diverse, dynamic, bright, and energetic, and I believe that they will be able to make many meaningful contributions to the world of health care in the years to come."
Upon completion of the summer internship, Lawrence plans on returning to PUC this September to finish his bachelor's degree. After graduation in June 2016, he hopes to be accepted into a finance/accounting residency program with Adventist Health System. "During the residency, I would like to obtain a master's degree and also my CPA certification," said Lawrence. "My plan is to continue in the way I believe God has shown me and extend the healing ministry of Christ with the gifts He has blessed me with."
About Adventist Health System
Adventist Health System is a faith-based health care organization headquartered in Altamonte Springs, Florida. A national leader in quality, safety and patient satisfaction, Adventist Health System's more than 74,000 employees maintain a tradition of whole-person health by caring for the physical, emotional and spiritual needs of every patient.
Search
Keywords
Archive
PUC in Outside News
Campus Updates