PUC Fundraising Class Raises $5,000 for Nonprofits
By Sierra Wisehart on August 17, 2015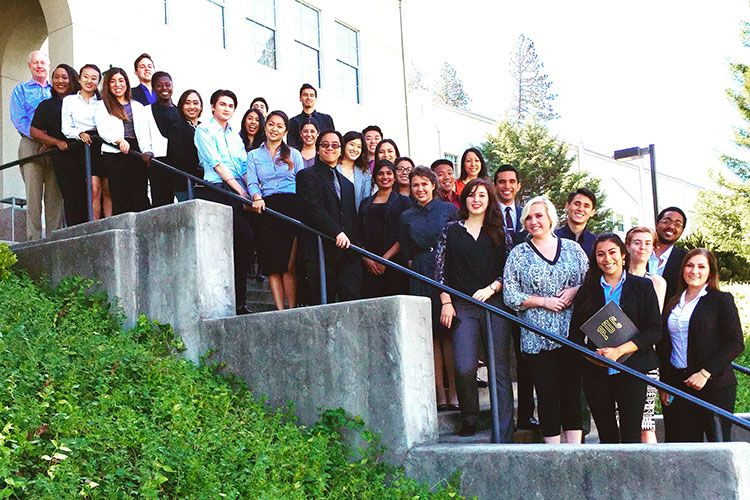 Pacific Union College's Communication Department has been offering their Fundraising for Nonprofits course for years, but the spring quarter of 2015 was different. Rather than simply learning the techniques necessary to fundraise, students in the class were challenged to put their skills to the test by partnering with real non-profits to raise money for authentic causes.
Student groups were required to plan, design, and implement an online crowdfunding campaign as well as write a script, shoot a campaign video, design a brochure, and volunteer for at least four hours at a non-profit event, among other class assignments.
"I wanted students to have not only an active learning environment but something to put on their resumes," said Michelle Rai, professor of the fundraising course and chair of the communication department.
Rai posted a status update on Facebook seeking nonprofit organizations to be "guinea pigs" for her class. She received numerous volunteers and her students selected the final 10 nonprofit organizations to work with during the quarter.
"I was thrilled to learn that students in Prof[essor] Rai's fundraising class chose Clinica Verde for their project," said Susan Dix Lyons, founder of Clinica Verde, a medical facility for women and children in Nicaragua. "Working with PUC students is a great opportunity to nurture new supporters and talent. It's also helpful to observe what approaches and methods work among students and their networks—they are, after all, both the fundraisers and the donors of the future."
During the course, Rai challenged her students with a live crowdfunding campaign for their respective nonprofits. "I thought my students would raise a few hundred dollars at most, but the class exceeded my expectations by a long shot."
In total, the 31-student class raised nearly $5,000 in funds directly linked to their efforts in a span of 30 days.
Jayson Paw, junior marketing communications major, led his team to raise $2,110 in their Clean Water for Clinica Verde campaign. "I sent emails, made phone calls and reached out to as many people as I could," said Paw. "It really took some creativity and ingenuity to raise the funds, but I felt inspired meet our goal of $1,000. Once we met that goal, I wanted to see how far we could take it."
"I'm so grateful for the support of these students," said Dix Lyons. "I was really impressed by the way Jayson Paw's team was able to adjust their strategy when their initial approach wasn't working. This is the key to success at anything you do—to be able to quickly respond to failures and rethink the approach in order to meet the goal. Paw's team did just that. As a result, they not only met their goal—they doubled it!"
Janae Bowman, junior marketing communications major, selected the Maasai Development Project (MDP) to raise funds for the organization's education center. The center provides housing, food and education for young Maasai girls needing a safe place to live. Many of the girls ages 9-13 are forced into early marriages if not for the help of the MDP working in collaboration with government child services agencies in Kenya.
"Our goal was $250 but we raised over $400," said Bowman. "It was surprising how easy the process was in setting up the crowdfunding site and getting the money to MDP. It was simple if you just took the time to do it."
Bowman said she was inspired by MDP founder Jan Latsha-Meharry, who spoke to the class in-person about what it takes to start and maintain a nonprofit.
"Listening to [Latsha-Meharry] made me realize how the actions of one can impact so many," said Bowman, who hopes to work with nonprofits in the future. "It was an encouraging takeaway to know it only takes one person to make a difference."
Not all groups had a direct path to success. The students working with 3 Angels Nepal (3AN) learned firsthand the importance of being flexible with their plans. The group planned to raise money to help 3AN fund safe houses and tighter border patrols to curtail human trafficking, but those plans changed after a 7.8 magnitude earthquake struck Nepal on April 25.
"Right before we were ready to launch our campaign, the earthquake happened," said Joshua Tobing, junior marketing communications and English double major. "We had to regroup and decide what focus we wanted to take. We decided to split what we raised between disaster relief and long-term human trafficking efforts."
The students working with 3AN raised over $1,000 during their crowdfunding campaign. "Disaster speaks so loudly to everyone," said Tobing. "A lot of people saw the earthquake and wanted to help, and we presented them with an opportunity to make it easier to do that."
Tobing plans to pursue a career in fundraising after graduation and praised the communication department for offering a class that specializes in this area.
"I'm really happy the class exists because it develops a skillset that many students need," said Tobing. "It's great to see classmates on social media applying their newly-acquired knowledge to their personal fundraising efforts."
As for future classes, Rai is hopeful her students will continue to make a difference outside of the classroom. "My goal is for students to leave PUC with a 'soft spot' for service and nonprofits," said Rai. "When no one's looking, when grades aren't part of the equation—I hope they'll choose to give back in meaningful ways."
Search
Keywords
Archive
PUC in Outside News
Campus Updates