Valley Fire Threatens Lake and Napa Counties
By Staff Writer on September 13, 2015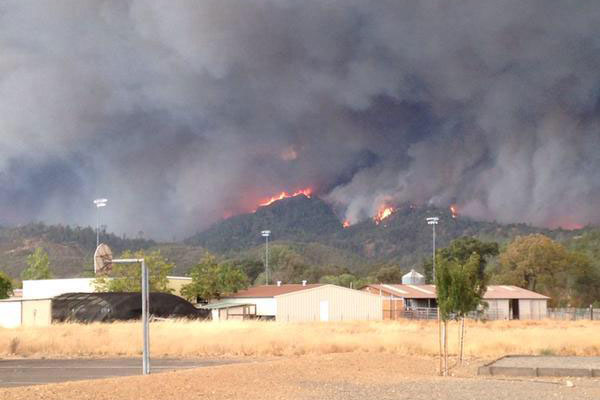 On Saturday, September 12, a fast moving wildfire broke out about 1:24 p.m. in the Lake County area of Northern California. Known as the Valley Fire, it continues to advance, and currently 50,000 acres have been burned with zero containment. On Sunday, Gov. Jerry Brown declared a state of emergency for the areas impacted by the fire.
Overnight, the fire moved into Pope Valley (Napa County) and created a mandatory precautionary evacuation in parts of North Angwin. The college and the town of Angwin have not been evacuated and are not in immediate danger at this time.
Remaining under mandatory evacuation are the communities of Cobb, Hidden Valley Lake, Loch Lomond, Middletown and Seigler Canyon; Highway 29/Highway 53 in Lower Lake to Highway 29 at Tubbs Lane in Calistoga in Napa County; Butts Canyon Road to the Napa County line, including Berryessa Estates; and Butts Canyon Road to Pope Valley. According to the Sheriff's Office, advisory evacuations are in effect for Livermore Road, Summit Lake Road and north of the community of Angwin.
An incident Command Center opened at Pacific Union College in the parking lot located beside the Advancement Office last night. Winning Hall is open to offer temporary shelter for evacuees. As of this morning, the main floor of Winning is full. The Market and Chevron station are both open to provide much needed supplies to those in our local and surrounding communities. Additionally, meals have been provided on campus today. Campus Ministries is working with church and community members to arrange a donation drop off location. Also, a fundraising effort has been launched online: https://www.crowdrise.com/valleyfirerelief to aid those affected by the Valley fire.
We've learned that some of our employees, students, and their families have been evacuated or otherwise affected by the fire. Their safety is our top priority at this time.
As of this morning, we are currently planning to continue scheduled business hours on Monday. If the Valley Fire advances in this direction, however, and our campus comes under mandatory evacuation orders, we will cooperate with the authorities. Verified and official information will be posted on the PUC Facebook page as it becomes.
Our thoughts and prayers are with everyone who has been affected by this fire, particularly those fighting the flames and those who have had their homes and businesses destroyed.
To learn more about the Valley Fire go to: http://cdfdata.fire.ca.gov/incidents/incidents_current
Search
Keywords
Archive
PUC in Outside News
Campus Updates