Monteith Named National Scholar-Athlete; Five Pioneers Receive Honors
By Staff Writer on March 17, 2015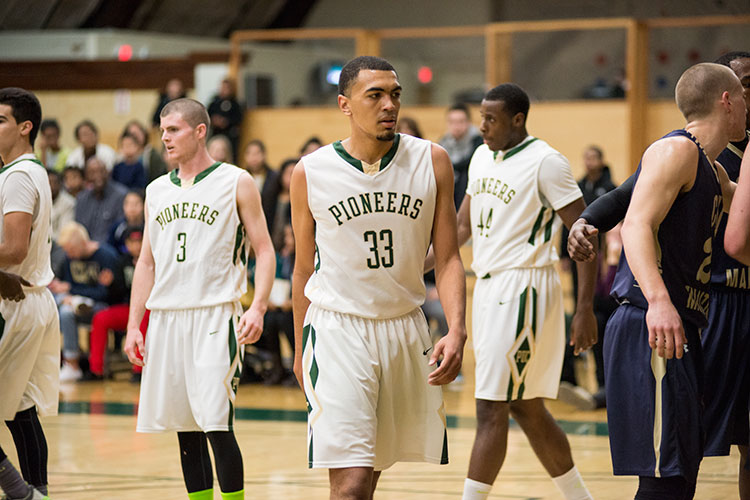 On Thursday, February 26, players on PUC's men's and women's basketball teams were awarded honors in the California Pacific Conference of the National Intercollegiate Athletics Association (NAIA). In addition to the conference honors, Jordan Monteith, men's basketball forward, was named a Daktronics-NAIA Scholar-Athlete.
The Daktronics-NAIA Scholar-Athlete programs recognize excellence in the classroom by NAIA-member student athletes who are juniors or above in academic standing with a 3.5 cumulative GPA. Students must appear on the eligibility certificate for the sport and have attended two full years as a non-transfer or one full year as a transfer. The awards are given annually to outstanding student athletes in the various sports in which the program is active, and their respective teams are eligible for NAIA postseason competition.
Monteith, a senior forward who will graduate with his bachelor's degree in business administration this summer, was also recognized as the California Pacific Conference Player of the Week (January 12-18).
"I am extremely proud of Jordan and his accomplishment of being named an NAIA Scholar-Athlete," states men's basketball coach Greg Rahn. "He has shown what it really means to be a student-athlete and what it takes to accomplish great success in the classroom and on the court. I cannot think of a better person to represent PUC and this award. His work ethic, determination, and commitment to success is truly one of a kind."
Rahn was equally proud of players who received Cal Pac honors: junior guard Greg Brown and senior forward Jordan Greenwell were both named to the Cal Pac First Team. Brown, a transfer from Chabot College, displayed his prolific scoring and shooting ability all season. Not only did he receive First Team Mention, but he was also awarded Newcomer of the Year. Brown led the conference in scoring with a 17.4 average. He also led the Cal Pac in free throw percentage (.745) and three-point field goals (55); he was second in three-point percentage (.390), third in field goal percentage (.390), and tied for fourth in steals (39).
Greenwell is a two-time First Team Mention Honoree. He is the only player to repeat from last year's First Team. The captain of the Pioneers averaged 11.6 points per game and seven rebounds per game. This season he totaled 318 points shooting (.496) (128-of-258).
Rahn praises the student athletes: "It is a blessing and an honor to have had the opportunity to coach these outstanding young men. They are a great representation of what it means to be a student athlete with great character."
Three Lady Pioneers were also recognized for Cal Pac Conference awards. Amber Washington received First Team Honoree, Ariel Barnes Second Team Honoree, and Kaitlyn Knab an Honorable Mention.
Senior forward Amber Washington was dominant in Conference play: fourth in scoring, averaging 13.7 points per game, third rebounding, with 9.5 rebounds per game, and a team high free throw percentage (.733). She was 45th in the nation in rebounds per game.
Senior forward Ariel Barnes, in her one year at PUC, was the only player in the Cal Pac to average a double-double. In 10 games, she totaled 101 points, 102 rebounds, eight steals, and two assists. She averaged a field goal percentage of (.362) and was (.705) from the charity stripe. Her best game this season was against Simpson University on February 12, 2015, going for 24 points (6-of-13) shooting, 11 rebounds and (11-of-12) from the free throw line.
Senior guard Kaitlyn Knab played a total of 10 games this season, averaging 8.1 points per game, 6.3 rebounds per game and 1.6 steals a game. In total she was a stat stuffer with 81 points, 63 rebounds, 18 assists, 16 steals, and six blocks. She shot (.317) from the field and (.438) from three-point range. She last played in 2011 before injuring her knee, ending her season. In that year she scored a career high of
"All three girls have the same traits: extremely hard workers with a game intensity to match," says women's basketball coach George Glover. "They leave it all on the floor every game. I am very proud to have coached these ladies and they deserve that recognition from the conference."
Pacific Union College's Pioneers teams compete in the California Pacific Conference, a division of the National Association for Intercollegiate Athletics. Pioneers programs include women's volleyball, men's soccer, men's and women's cross country, and men's and women's basketball. Learn more about the college's athletics program on the Pioneers website.
Search
Keywords
Archive
PUC in Outside News
Campus Updates