Season of Joy: PUC Celebrates Christmas
By Emily Mathe on December 10, 2014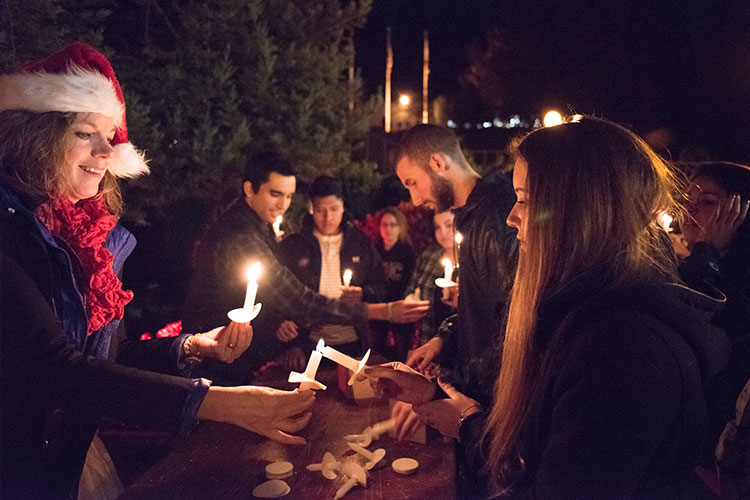 The annual lighting of the PUC Christmas tree took place on the Monday of dead week, December 1. The campus mall was aglow with candlelight, and Christmas melodies wafted over the people in the crowd as they waited for the festivities to commence in front of the massive landmark tree. At 6:30 sharp, Student Association (SA)president Daniel DeCaires welcomed everyone to the tree lighting, especially thanking the rest of the SA officers for their hard work at the beginning of the holiday season. Josue Hernandez, SA religious vice president, gave a short prayer then turned the stage over to PUC President Heather J. Knight.
President Knight provided the encouraging message that in a few short days, the quarter will be over and winter break will begin; until then, we have to keep up the momentum and power through finals. She then began the countdown to the light-up. After a momentous few seconds to take in the radiant tree, most of the crowd headed to the mall in front of the campus center for cookies and hot chocolate. As a surprise finishing touch to the evening, a snow machine blanketed the ground of the mall with fluffy white flakes to the delight of the students.
The week's festivities concluded with the annual Christmas concert in the Church Sanctuary on Friday evening, December 6. The event filled up church pews with students, community members, and even visiting academy students. Multiple ensembles including the orchestra, chorale, and hand bells performed an array of sacred music. Throughout the program, the audience was encouraged to join in by singing along to the seasonal hymns. The concert ended with the choir surrounding the audience, singing Silent Night.
For those who wanted to see an encore performance or missed the Friday evening program, there was another opportunity to see the Christmas concert on Sabbath afternoon, December 7. The family-friendly event celebrating the first advent was enjoyed by music-lovers of all ages.
Search
Keywords
Archive
PUC in Outside News
Campus Updates