PUC Adds New Bachelor's in Emergency Services
By Cambria Wheeler on June 9, 2014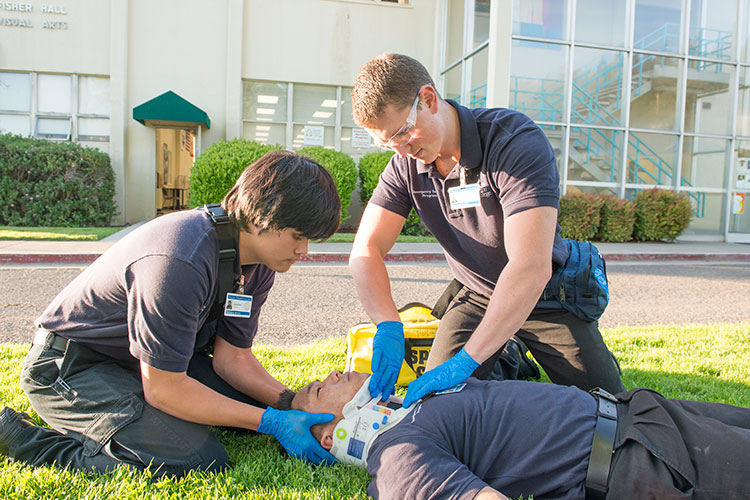 Since 2007, students at Pacific Union College have been able to pursue a unique and exciting degree by taking PUC's A.S. in emergency services. This fall, the emergency services program is expanding its offerings with a new bachelor's in emergency services. The four-year degree will prepare leaders to serve their communities through long careers in this rewarding and challenging field.
"Our mission is to prepare and educate individuals for years of service both locally and nationally with a well-rounded foundation in both vocational and professional education," says Levi Gore, who teaches both nursing and emergency services at the college.
The Bachelor of Science degree in emergency services is designed to give students both hands-on training and the management skills necessary for long and successful professions in emergency services settings. While students will receive important vocational certifications including Emergency Medical Technician and technical rescue certifications, they will also receive important training in areas such as resource management, public safety system design, disaster response, and public health.
In addition to the four years of emergency services classes, the degree takes full advantage of PUC's liberal arts environment by integrating courses from various academic departments. The curriculum includes human anatomy and physiology courses from the department of biology; public health, pharmacology, and research classes from the nursing program; social science classes from the department of psychology and social work; and classes from the department of communication. In addition, the degree requires students to take Spanish for Health Care Professionals, already a popular choice for the college's many pre-medicine, nursing, and allied health majors.
It is the ability to provide hands-on, direct care that appeals to many students already enrolled in the emergency services program. "We are preparing people directly for service. We are not preparing people to just go sit behind a desk," says Gore. "We are not afraid to get down to the patient's level and to touch our patients and provide Jesus' healing through us." Students can begin working as emergency medical technicians by the conclusion of their first year at PUC, and over half the students in the program serve the local community by volunteering with the Angwin Community Ambulance and Angwin Fire Department, building both résumés and credibility in the field.
"We hope that students will get the foundational vocational field experience, but not be satisfied with that but to move on to be the future educators, future thinkers, and innovators in an emerging industry," shares James Robertson, professor of physics, who teaches with Gore in the program. "The degree is well-rounded enough that you could grow in firefighting, in emergency medical services, in law enforcement," as well as in local government and policymaking, Robertson and Gore explain. Students could add minors in international communication, business, or other areas to make themselves even more competitive in these exciting and fulfilling professions.
Both the creation of the associate degree and the new bachelor's in emergency services were inspired by the students' desire to serve their communities in these important and necessary roles. "Students with our A.S. degree in emergency services have been requesting a full bachelor's degree so that they can qualify for management-level jobs," explains Academic Dean Nancy Lecourt. "We are very pleased to be able to offer them this expanded program."
Those interested in learning more about the B.S. in emergency services and emergency services program, which is housed in the department of nursing and health sciences, are invited to visit www.puc.edu/emergency-services
Search
Keywords
Archive
PUC in Outside News
Campus Updates