Actor and Producer Brian Yang Screens Linsanity Documentary
By Cambria Wheeler on November 15, 2013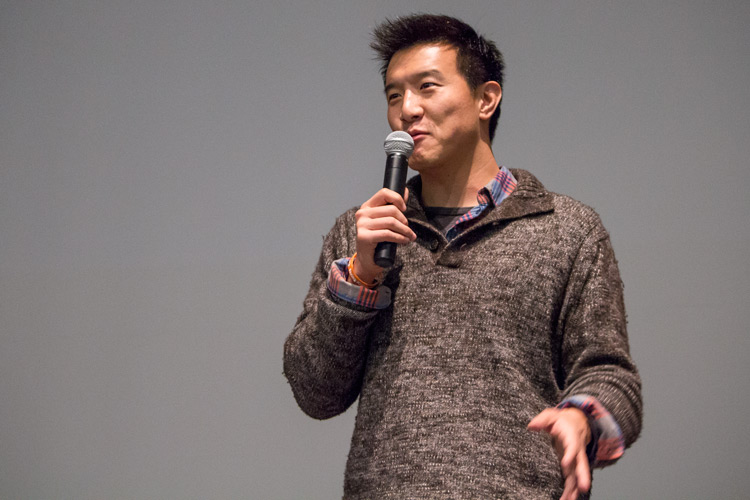 On Saturday, November 11, actor and producer Brian Yang screened the documentary Linsanity at Pacific Union College. The film profiles the career of NBA player Jeremy Lin from his high school years in Palo Alto to Harvard and then on to the National Basketball Association (NBA). Yang, a film and television actor who has been on the network show Hawaii Five-O, took time after the film to answer questions from the students and community members in the crowd.
"The film goes back in time from humble beginnings to his rise to the top," Yang said in his introduction of the documentary. "The message you'll come away with is an inspirational story for all types of people."
Yang described the film as the "true, full backstory" of the many years of hard work and failure that Lin endured before his moment of success. Yang and his partners began filming three years ago when Lin was playing basketball for Harvard University. Though Yang and his partners first planned to create a small web series, Lin "rewrote the end of the story" when he was picked up by the New York Knicks and began playing at an amazing level.
While the film profiles the 25-year-old Lin's basketball career, it is just as much about his relationship with his family and with God. Interviews with Lin and with his pastor and close friends illustrate the importance of faith in Lin's life. This ability to share his faith is one thing that drew Lin to the film, Yang explained. Lin was able to "share his testimony and tell his story through this platform," Yang concluded.
Linsanity premiered at the Sundance Film Festival in January, and a final cut premiered in Los Angeles in September. It is now being screened at film festivals nationwide.
Search
Keywords
Archive
PUC in Outside News
Campus Updates