Six Students Take Two-Week Trip to Oak Ridge National Laboratory
By Lauren Armstrong on December 11, 2012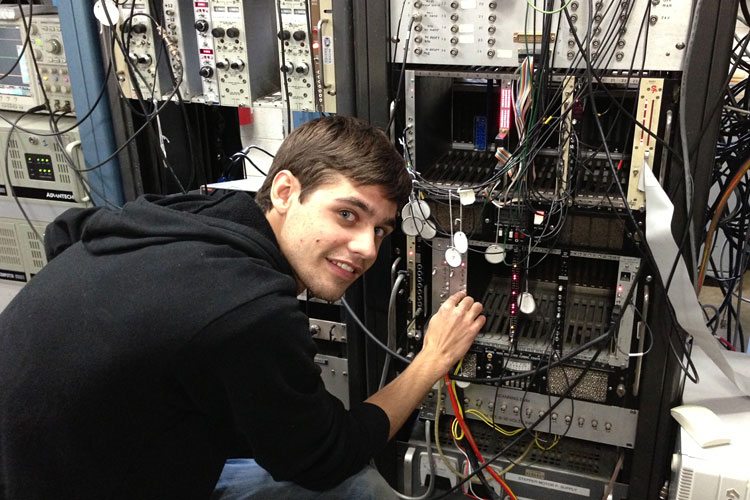 Several times each year, select students from PUC's math and science departments visit the Oak Ridge National Laboratory (ORNL) in Oak Ridge, Tenn. for research and hands-on application of what they've learned in the classroom.
Between Nov. 15 and 30, a group of six PUC students took a two-week long trip to ORNL. The National Science Foundation, a government organization that promotes the study of science, presented this opportunity and PUC physics professor Vola Andrianarijaona chose each student that attended. April Vassantachart, Kieffer Bacani, Sarah Heczko, Josue Tobar, Richard Strom, and Robert Chi attended this particular trip, reprenting areas of study from biophysics to pre-med to computer engineering.
The students were given the chance to participate in different phases of particle research, with assistance from both Andrianarijaona and ORNL scientist Charlie Havener. "The purpose of our trip was to set-up our apparatus, calibrate it, and start making measurements," said Bacani.
This gave students the opportunity to not only learn how these things are done, but to put them into practice. "The trip gave me real lab experience, and put my education to the test," said Chi.
ORNL, founded in the 1940s, has been facilitating scientific discoveries and groundbreaking research for over 60 years. The laboratory has many advanced facilities made available to researchers, lab staff, engineers, and other institutions.
"We were able to see and work with high-tech equipment and have guidance from experienced and intelligent physics researchers," said Vassantachart. "The facility and machines were were able to work with were amazing." This was her second trip to ORNL, having gone for a week back in April 2012.
The experience offered many intangible rewards and learning experiences. "It was the theory behind the experiment that made me excited to go to work," Bacani noted. Being able to talk to other physicists was another opportunity these students were able to take advantage of on this trip. "Meeting other physicists and learning about their work was inspirational," he added.
"I would definitely take this trip again, as it is a great opportunity and an excellent way to understand the topics learned in class," said Strom. The trips to ORNL are valuable to students because they can experience and apply the abstract ideas they've learned about. These six students will return to ORNL this month to continue the experiment, with an additional student, junior biophysics and pre-med double major Brandon Singh.
Search
Keywords
Archive
PUC in Outside News
Campus Updates