PUC Students Take Top Honors at National Communication Convention
By Giovanni Hashimoto on December 5, 2012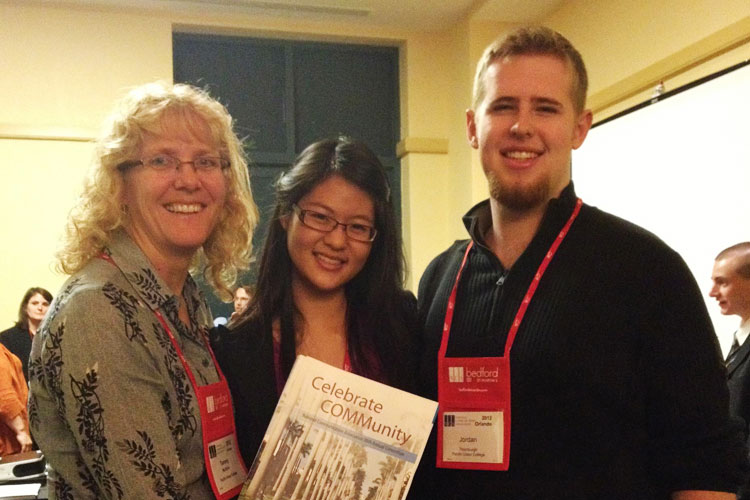 Two of the top four awards, including the top group award, in the Lambda Pi Eta division of the National Communication Association convention were awarded to Pacific Union College students this year at the NCA annual event. Three of the students and PUC Communication Professor Tammy McGuire traveled to present their research at the convention.
The NCA convention is the single largest annual gathering of communication teachers, researchers, students and other professionals in the nation. Over 5,000 attendees from every state and around the world were present at the convention, held Nov. 15-18 in Orlando, Fla. PUC's papers were submitted to the division limited to members of the National Communication Association's official honor society, Lambda Pi Eta.
A paper by five PUC students, "Conflict Resolution Patterns in Intercultural Couples," won the Stephen A. Smith award for the top group paper in the Lambda Pi Eta division following its presentation by PUC Senior Shanna Crumley. The other members of her team, Abraham Baldenegro, Jennifer Cotto, Sean Grainger and Divya Joseph, had already graduated and were unable to attend.
The other paper at the convention, was presented by 2012 graduates, Janna Vassantachart and Jordan Thornburg, was titled "Birth Order and Communication Styles in Romantic Relationships." Vassantachart, now a student at the Loma Linda University School of Medicine, says they submitted their paper not expecting a response due to the large number of submissions worldwide.
"But, our paper was accepted!" says Vassantechart, writing in her medical school student blog. "Upon arrival, we were even more pleasantly surprised to find our paper had made it into the top four papers for Lambda Pi Eta, along with another research group from our class at PUC."
The research presented was done as part of a communication research class taught last year by Professor Tammy McGuire. The class is a graduation requirement for communication students. Papers are submitted the previous year and undergo a peer review process before being accepted. Last year, the communication research class was moved to winter quarter to facilitate submission to the conference.
"The experience of presenting was very educational, as well as the exposure to the other various communication research studies," added Vassantechart. "I even attended panels on health communication. The studies in these categories looked at improving physician communication in the context of end-of-life care and health care websites."
McGuire said she was impressed by how prepared her students were at the convention. "They did as well or better than students from bigger universities," she said. "They showed a level of professionalism, a level of preparedness and a level of knowledge that was impressive not only to me, as their instructor, but to the people in that room. They fabulously represented the department and PUC and themselves and their families."
"I think it's awesome that PUC had half the top papers at this convention in that division," she enthuses. "I was extremely proud."
Search
Keywords
Archive
PUC in Outside News
Campus Updates