Charles White: Prioritizing People at the 2012 Adventist Heritage Colloquy
By Midori Yoshimura on December 14, 2012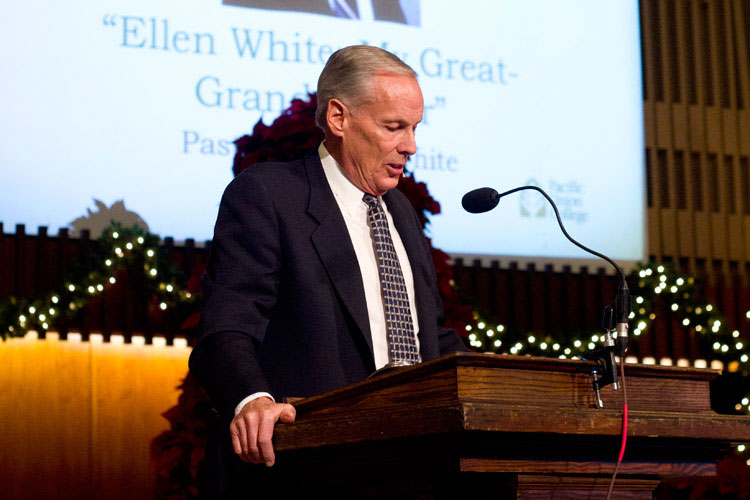 With the warmth of a family member, Charles White, a pastor and great-grandson of Ellen G. White, drew students closer to their Adventist inheritance at Pacific Union College's annual Adventist Heritage Colloquy. White is the senior pastor of Camelback Seventh-day Adventist Church in Phoenix, Ariz., and a PUC alum.
In "Faith of Our Fathers," the opening hymn, the audience sang the praises of a Christian inheritance, and the Heritage Singers performed a toe-tapping rendition of "Satisfied." Afterward, PUC President Dr. Heather Knight introduced White and the accomplishments of his great-grandmother, Adventism's co-founder and the world's most translated female author. "Our priority should and always must be on people," White said, as he shared family stories to create a "sense of connectedness."
"Did you ever meet your great-grandmother?" Charles White is often asked. With a laugh, he said he called upon the reasoning skills of "math majors and nonmajors" to do the calculations: Ellen White passed away in 1915. However, through his stories students had the chance to become better acquainted with members of the White family, such as "Sleeping Willy," Ellen White's somnambulance-prone son.
"I thought it was very interesting to hear about E.G. White from a family member. Even though [the speaker] had never met E.G. White, obviously he had many stories that many sources didn't," said PUC student Michael Borchik. White also noted his family's passion for the gospel and commitment to sharing the advent hope, whether in the U.S. South or abroad in Australia.

Ellen White's great-grandson began and ended his morning talk at PUC by referencing the college's rich Adventist heritage. Adventism's co-founder was instrumental in the formation of Pacific Union College, and also spent the last years of her life at nearby Elmshaven. White spoke from the pulpit his great-grandmother used when preaching at PUC, but also noted that "Just because I'm a great-grandson of Ellen White doesn't (make) me any closer to who she was and her mission than any of you can be."
"I've been in ministry for over 40 years, and every day I use something I learned or was directed to learn from my education at PUC," he said. Charles White also noted that "God has a purpose and destiny for this school," and that PUC and its students "were not here by chance."
Before the sanctuary's historic Rieger pipe organ signaled the end of Colloquy, Charles White encouraged students to take full advantage of their time at PUC. "Offer a blessing to everyone, not a bowed-head blessing, but an open-eyed one," he advised. "May God be with you as you continue your growth in education here at PUC."
Search
Keywords
Archive
PUC in Outside News
Campus Updates