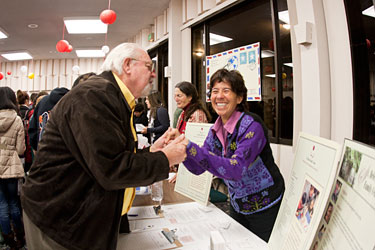 Pacific Union College held its first annual Service Day on January 20, 2012, by organizing a fair featuring service opportunities for students from local and international non-profits. The day aimed to inspire students to serve their world and showcased opportunities to put that inspiration into action.
According to PUC Service Coordinator Fabio Maia, the idea was to create more volunteer opportunities for students. "We brought in non-profits in the area to provide opportunities students can signup for," said Maia. "But it's not just a signup list for them to be contacted at a later date. We wanted to provide real opportunities so they can start serving."
Among the organizations at the fair were St. Helena Hospital and Rose Haven, the Napa Youth Advocacy Center, the St. Helena Family Center, and other organizations serving the Napa Valley. Alongside the local organizations were groups like Developing Communities Nicaragua, and Project Pueblo that showcased opportunities to serve outside the Valley. The mayors of Calistoga and St. Helena, Jack Gingles and Del Britton, were also present.
Mayor Britton said he believes PUC contributes positively to the Napa Valley. "One of the nice things about PUC is its 'service first' philosophy," he said. "The advantage of a fair like this is people can go around and see what services these agencies provide and can hook up with that agency and provide whatever help they might need."
"In St. Helena, its a very small community, and people know each other and they help each other. There's a tremendous compatibility between PUC's atmosphere and the atmosphere of St. Helena," he added.
Students appreciated the fair and PUC's commitment to service. "I think that its great," said Shanna Crumley, a senior intercultural communication major. "We have a lot of really good projects here that students can actually get involved with, very specifically, that really matter." Nathan Shuey, a sophomore English and psychology major, agreed. "I'm definitely going to look at the options that we have at the fair and try and volunteer for one of them," he said.
Prior to the fair, PUC held a screening of La Casita Azul, a film featuring a community building project in Nicaragua. St. Helena local and PUC alumnus Jake Scheideman, whose work and organization, Developing Communities Nicaragua, was featured in the film and attended the screening.
La Casita Azul tells the story of Doña Canda, a great-grandmother, who lived an impoverished life in Empalme de Boaco, Nicaragua. The film followed her interactions with Scheideman and his team, telling the story of their building her a house after she had lived in a shack for her whole life.
The film is "about giving back and doing something that matters," said Scheideman. "Everybody deserves to have a chance to give of themselves. I think this movie displays that perfectly, especially for students who are getting out through the world and want to know what they can do to give to their communities and the world."
Students were inspired by the film and its powerful message of service. "The film was really inspiring and made me want to work on a service project," said Alison Batchelder, a sophomore psychology major. "PUC has really inspired me to work more for my community. I'm actually going on a service trip to Costa Rica later this year; I'm really looking forward to it."
According to Lisa Paulson, vice president of student services at PUC, the fair was a way for the college to infuse service through every aspect of campus life. "PUC has always had a mission of service," she said. "I think what we're really trying to do is integrate it into classrooms through service learning and immerse it through every aspect of life at PUC."
"It would be wonderful if 100% of the student body served in some way," she added.
Search
Keywords
Archive
PUC in Outside News
Campus Updates