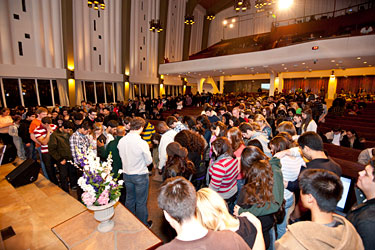 Pastor Paul Graham spoke for PUC's Winter Revival, January 25–28. The theme of the four-day series was "Grounded in Love," and Graham emphasized the importance of building a foundation in Christ. Being rooted in Christ enables one to look past the day-to-day difficulties of life and believe that God has already overcome, said Graham.
Among other Biblical stories, Graham examined the parable of the prodigal son, likening the prodigal son's venture away from home to the way one may venture away from God by choosing activities that are not pleasing to Him. Graham encouraged students to surround themselves with friends that will help—not hinder—one's walk with God.
After Friday vespers, Graham addressed a Q-and-A session in Scales Chapel. Student leaders had previously distributed index cards and pens in the lobby of the church for students to write any questions they had for the pastor. Many students submitted requests for guidance in their personal relationships. Graham addressed these questions directly, also taking questions from the students in attendance. The chapel filled quickly with students eager to find answers.
Graham is originally from Brooklyn, New York, and currently serves as senior pastor at the Restoration Praise Center in Lanham, Maryland.
Search
Keywords
Archive
PUC in Outside News
Campus Updates