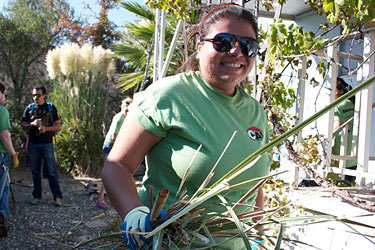 Over 40 Pacific Union College students helped Napa Valley senior citizens with home repairs and other needs in the first volunteer service project of the year on Friday, Sept. 28. The event, known as Rebuilding Calistoga, is a partnership between PUC's Office of Justice, Service and Missions and Calistoga Affordable Housing.
"We have a lot of people that live here by themselves or just a couple of elderly [people]," said Fabio Maia, director of service at PUC. "Calistoga Affordable Housing assesses what the needs are and we bring the workforce, the tools, the expertise and we help them."
Several residents who received assistance from the project voiced their appreciation for the essential service. "I've always done it myself," explains one resident who identified himself as Greg, and who received help maintaining his yard. "But here lately, I'm 76 years old, and I just can't do it anymore."
The tasks accomplished by PUC students at Rebuilding Calistoga vary from simply cleaning houses to more complex tasks like rebuilding decks, painting exteriors and landscaping tasks.
"Principally, serving others is just the best thing in the world," explains Issac Lee, a freshman from Salem, Ore. "In the first week taking the first step and hopefully throughout my four years in PUC I will grow and expand my horizons in different areas of service."
Larry Kromann, CEO of Calistoga Affordable Housing, said that his organization started the project to connect volunteers with seniors to address health and safety issues in their homes. He approached PUC to become involved because, he says, "PUC students are a cut above most college and university students."
Since then, PUC has sent several groups of students to volunteer for Rebuilding Calistoga each year.
"It's fun for the students," adds Maia, "and it's a great opportunity for our students to get involved and help our whole community."
Search
Keywords
Archive
PUC in Outside News
Campus Updates