Assemblymember Yamada Speaks to College Democrats
By Giovanni Hashimoto on October 19, 2012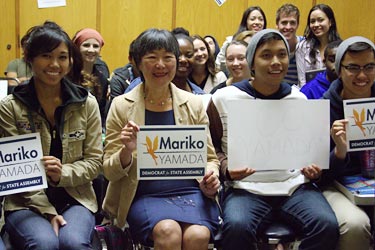 Assemblymember Mariko Yamada spoke about her public service and answered students' questions at an event sponsored by the College Democrats student organization at Pacific Union College on Friday, September 12, 2012. Over 50 students attended the event and accompanying voter registration drive.
Yamada spoke about her experience growing up attending inner-city schools as the daughter of parents held in Japanese Internment Camps during World War II. She later became the first member of her family to complete college and graduate school.
Her experience shaped her perspective, she said, as she compiled a consistent record of supporting education in elected office. She also noted her background as a professional social worker which she said allows her to understand the importance of upholding the highest ethics as an elected official, something she believes is often lacking.
Yamada also urged students to register and participate in the upcoming election, noting the various items on the ballot including Governor Jerry Brown's Prop 30 which she supports.
"I was thrilled to hear Assemblymember Mariko Yamada speak," said Holly Batchelder, a junior psychology major and vice president of College Democrats. "Yamada's story of how her family fought and faced oppression, yet persevered to greatness is moving and inspirational," she added.
Describing voting as an "American privilege," Batchelder noted the importance of exercising one's right to vote. Hundreds of students have been reached by College Democrats' campus voter registration drive according to organizers.
Yamada currently represents the eighth district in the California State Assembly. Following redistricting, she is running for re-election in the fourth district which includes all or part of Colusa, Lake, Napa, Solano, and Sonoma counties as well as her residence in Yolo county.
Search
Keywords
Archive
PUC in Outside News
Campus Updates