PUC Ranked "Most Beautiful College"
By Larry Peña on August 6, 2012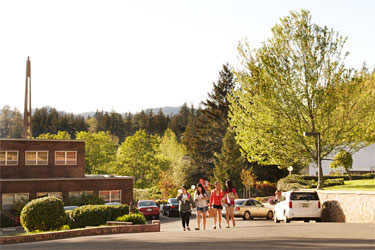 In a new list unveiled over the weekend, Newsweek and the news commentary site thedailybeast.com named Pacific Union College the most beautiful college in the nation. The ranking aggregates survey data on the attractiveness of both the campus and the students, as well as data assessing the pleasantness of the weather.
"I am absolutely thrilled by this new designation for PUC from Newsweek as the most beautiful college campus in America," says President Heather J. Knight. "In many ways, this is early recognition for our collective goal to make the campus sparkle and for the hard work done by 'Team Sparkle,' which includes our landscape and facilities management teams in particular. This recognition inspires all of us in every area of our campus community to keep working even harder to make PUC a twenty-first century state of the art learning environment characterized by a God-given gorgeous and pristine setting. We are truly moving from good to great."
See the full list at thedailybeast.com.
Search
Keywords
Archive
PUC in Outside News
Campus Updates