High-Achieving Middle Schoolers Experience College at Pacific Quest
By Giovanni Hashimoto on August 2, 2012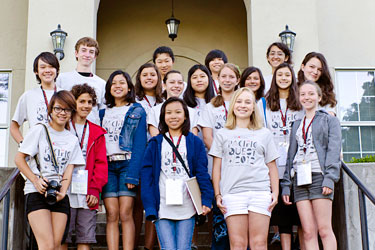 Middle school students visited Pacific Union College to experience a preview of higher education at PacificQuest 2012, July 22 through 27. The annual program gives academically outstanding seventh- through ninth-graders a chance to earn college credit in an intensive five-day program.
This year's PacificQuest featured an introductory course in mathematics taught by Richard Rockwell, a professor emeritus of mathematics at PUC. Students selected an additional class, either in computer science or communication.
"I've loved math all my life," says Emma Duge, a rising freshman at Justin-Siena High School in Napa. "PacificQuest is cool this year in the way that the math course is really complex and complicated... Dr. Rockwell is such a great teacher that he makes it all easier to understand."
"I never thought I'd be doing modular arithmetic before high school," she adds. "It's by far the highlighted week of my summer, as it was last year too."
This year, PacificQuest hosted 18 students representing eight different schools from across the Western United States and as far away as Colorado.
This is the 16th year since PUC began hosting PacificQuest to give academically-minded middle school students a chance to get a head start on college. Students who want to attend the program are recommended by school administrators when they meet a specific set of academic requirements, and are selected through a rigorous application process.
Search
Keywords
Archive
PUC in Outside News
Campus Updates