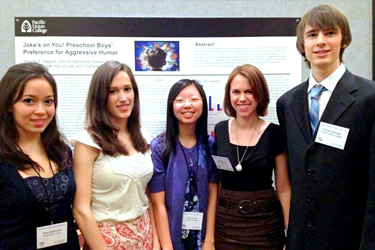 A new program, started last year by the Student Association and the academic dean, is helping students prepare and present original academic research at scholarly conventions across the country.
The undergraduate research fund was created this past school year using an allocation from the Student Association president's budget, with additional funding provided through a student senate bill introduced by Holly Batchelder, a junior psychology major.
"The undergraduate research fund encourages students to produce undergraduate research which will, most importantly, prepare students for graduate studies and future research while showcasing PUC's academic success," Batchelder explains.
"It's much more exciting to do research if you know you might be able to present it publicly when you're done," says Nancy Lecourt, vice president for academic administration and academic dean. "It makes you feel like you're actually in the world of academic research. Its active learning; it's a high impact learning practice."
The program has already issued twenty-five grants since its creation, including nine for the department of physics, 14 for the department of psychology, and two for the department of social work. Student recipients have presented research at the conventions of the Western Psychological Association, the Association of Baccalaureate Social Work Program Directors, and the American Physical Society Division of Atomic, Molecular and Optical Physics.
Racquel Brown, who graduated in June with a degree in social work, received a grant from the program to present at this year's Association of Baccalaureate Social Work Program Directors convention.
"I wouldn't have been able to go without the fund," Brown notes. The research she presented at the convention, in collaboration with Gemma Failano, another social work major, and Monte Butler, a professor of social work, won second place at the convention.
"Sometimes there is not a way for students to present due to cost," she adds. "Knowing that there is something to help you to be able to present your research takes some stress off you."
Search
Keywords
Archive
PUC in Outside News
Campus Updates