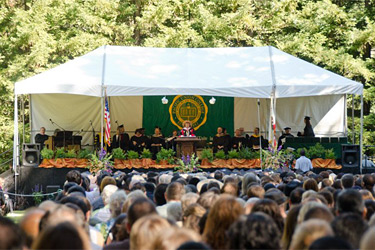 Hundreds of dads received a very special Father's Day gift in Angwin Sunday, April 17—the gift of watching their children successfully complete their undergraduate educations. Pacific Union College graduated its 124th class on June 17 in the Angwin campus's beautiful Commencement Grove.
"It's the best Father's Day present I could ever have," said Geoff Brummett of Redlands, Calif., whose son, also Geoff, graduated as a senior class officer with a double major in graphic design and photography.
The class of 2012 comprised 286 graduates representing fourteen states and eight countries. Over 75 academic distinctions and honors were presented, with 14 summa cum laude graduates, nine magna cum laude, 43 cum laude and 10 graduates from the honors program. The class most notably included 119 graduates from the department of nursing, 40 from department of business and 22 in the visual arts.
PUC board member and Adventist Health regional CEO Terry Newmyer presented the commencement address on Sunday morning. A veteran healthcare administrator, Newmyer's leadership has been instrumental in a dramatic fiscal turnaround at St. Helena Hospital over the last several years. He is also the proud father of Michael, a cum laude business major and member of the graduating class.
In his address, Newmyer encouraged graduates to "make failure your friend." Noting historical examples of long strings of failure culminating in great success, he reminded graduates that in life, victory and defeat often go hand in hand. "Failure in life is what gives us courage," he said. "How often in life are we willing to finish with a failure? To see how far we can go? We'll never know if we've gone too far until we go too far."
The Sunday morning commencement ceremony was the climax of a full weekend of graduation festivities at PUC. On Friday evening, graduates gathered in the PUC Church for a dedication ceremony featuring Roy Ice, pastor of the Napa Community Seventh-day Adventist Church. Ice, who served as PUC campus chaplain for six years ending last school year, recounted interactions he had with different people who went on to significant accomplishments. "You never know what greatness people in your life will achieve," he said.
On Saturday, the graduates and their families gathered again as current campus chaplain Laffit Cortes addressed them following a multilingual reading of Joshua 1:8—a biblical text promising success to those who live by God's commands. Paul Graham, a noted Adventist minister from the Washington, D.C. area, also spoke on Saturday morning, urging students to stay true to themselves. The evening culminated in a special reception for graduates and their parents with PUC President Heather J. Knight.
Search
Keywords
Archive
PUC in Outside News
Campus Updates