PUC Students Restore Blue Oak to Berryessa
By Lauren Armstrong on November 3, 2011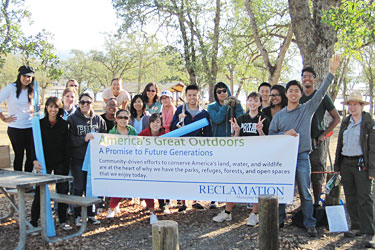 On Sunday, Oct. 30, a group of Pacific Union College students spent the day restoring the wildlife habitat surrounding Lake Berryessa. The recreational site, which is just a half hour drive from the PUC campus, had been damaged by human impact and the students' hope was to rebuild it by planting native species that once flourished in the habitat but have been unable to survive in the current conditions.
There were 18 students involved with the project, which was led by Aimee Wyrick, assistant professor of biology. Students in Wyrick's conservation biology class made up the majority of the group, although the event was also open to biology majors and anyone else who was interested. Three park rangers from the Bureau of Reclamation also helped with the project.
"As a biology major who has taken ecology and conservation classes, I've always studied cases of habitat degradation and how we need to conserve what we have left," says senior Brian Lee. "The habitat restoration that we performed really drove home the fact that these ecosystems are incredibly fragile and that these problems may be witnessed in our own backyard."
Students planted blue oak acorns, native trees that take about a decade to establish. The goal was to plant them in the appropriate conditions, with enough protection around them, to let them grow successfully. In the future, more acorns or some grasses may need to be planted in the area. The hope is that the animals that live in these plants will also return to the area. Because humans are constantly active in the area, restoration is not a one-time thing. "There's a lot of other work that can be done, and they always need volunteers," says Wyrick.
Among other things, conservation biology is about preserving species. Wyrick wanted her students to have hands-on experience with a project related to conservation and restoration, so she organized this service learning project.
One of her goals is to help students become aware that there is more than one type of community service. "I feel like there's really a contribution we can make as a church, not only to the human health aspect but also to restoration," says Wyrick.
"In our Seventh-day Adventist society, we're very mission oriented, but it's usually focused on humans," she says. "People get really excited about going on mission trips to build churches and provide medical care, which is wonderful. It's a very direct way for us to care for the rest of humanity. But I think that we miss too often that we are also charged with protecting what God has created for us, and that includes plants and other animals."
She plans to make habitat restoration a recurring project at PUC, ideally happening once a quarter. Napa County will be the likely target for future habitat restoration projects. "I think PUC needs that good face in the community, showing them what our students are capable of and trying to give back locally," says Wyrick.
Search
Keywords
Archive
PUC in Outside News
Campus Updates