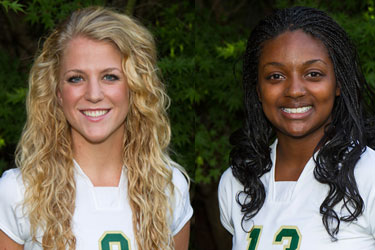 Last week the CalPac conference recognized two Pioneers volleyball players for their performance in the recently closed season. Senior Casey Miller was named to the 1st Team All-Conference group, and junior transfer student Calai Brown was named one of the conference's two Newcomers of the Year.
Head coach Brittany Brown had glowing praise for the two players. "[Casey] is one of those players that really gives 100 percent every day and helps set the tone for PUC volleyball for years to come," she says. "[Calai] has come into this program with a strong understanding of collegiate volleyball and really excelled this season."
Miller finished the season leading the Pioneers in kills, with 205 (3.1 kills per set). She was second on the team with 23 service aces on the season, and she also finished second on the team with 191 digs and third with 18 total blocks on the year. Brown finished the season third on the team in kills, with 123 (1.68 per set) and second on the team with 27 total blocks on the year.
"I'm glad that it was my senior year," says Miller. "It's a nice way to finish. I consider it an honor."
"It feels great to be recognized for something," says Brown. "I felt like I wouldn't have done that well without [Coach] Brittany [Brown] helping me and actually believing in me."
"Both Casey and Calai are amazing people and athletes," says coach Brown. "However their success is completely wrapped up in a team that kept growing and supporting each other up until the last practice and game."
Search
Keywords
Archive
PUC in Outside News
Campus Updates